Photo Gallery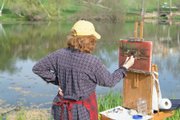 Art on the hill
'A Spring Day on the Hill'
What: Exhibition of 103 paintings of the Kansas University campus by 63 painters.When: Now through Dec. 31. Gallery hours are 10 a.m.-6 p.m. Monday through Friday and 10 a.m.-4 p.m. Saturday.Where: SouthWind Gallery, 3074 S.W. 29th St., Topeka.Opening reception: 6 p.m. to 8:30 p.m. Friday. An artists' reception and open house will be from 10:30 a.m. to 3:30 p.m. Saturday.More information: Call (785) 273-5994 or visit www.southwindgalleryoftopeka.com.
On a beautiful spring day in April, more than 60 artists donned matching yellow Jayhawk ballcaps and spread out through the Kansas University campus. They set up easels and started their own interpretations of what makes Mount Oread beautiful.
"I think it's interesting to see all the different interpretations that people took of the campus," says Kathleen Anderson, a Lawrence watercolor painter. "Some were very literal and very representational, and others were very abstract. People who went to KU and have fond memories love the campus. It's such a beautiful area. This is just a nice reminder of being there on the campus."
The artwork that was created April 26 is now on display at SouthWind Gallery, 3074 S.W. 29th St. in Topeka. The 103 paintings by 63 artists are both a tribute to the KU campus and to the variety of artistic styles taken by the painters.
Official opening events are Friday and Saturday.
"We got a little bit of everything from this, which is exactly what we were after," says Gary Blitsch, the gallery's owner.
"A Spring Day on the Hill" was Blitsch's idea. He had organized three previous "plein air" art events, in which artists converged on one area to paint for the day in locations such as the Flint Hills.
In by-the-book plein air competitions, art must be completed on the particular day of the event. But Blitsch allowed artists for this exhibition to finish their work in their studios if they preferred.
The artists came from as far away as Medicine Lodge and Omaha, Neb. Blitsch estimates about half were KU alumni.
His instructions to the artists: "We wanted to convey the KU experience."
"The KU campus is so beautiful," Blitsch says. "There's really no rival when it comes to scenery, landmarks and identifiable places."
The resulting paintings highlight both the striking and the subtle landmarks of campus. Potter Lake, the Campanile, Danforth Chapel and Fraser Hall make frequent appearances, but there also are pieces featuring the stairs leading up Campanile Hill, a colorful abstract piece called "Campanile Energy" and details of campus trees.
"That's the interesting thing about it," says Deb Clemente, a Lawrence artist who participated. "First of all, it's what people were drawn to. But even then, you could set up 25 or 100 artists in the same place, and you'll either get a different angle or a completely different interpretation. That's what art is about - everybody has their own expression. It's all about point of view and perspective."
SouthWind Gallery partnered with the KU Alumni Association for the painting event and exhibition. The Alumni Association is helping to publicize the show to its members and will receive a portion of the profits of the sale of prints and a book of the works that will be out in November.
"We were enamored by the concept from the get-go," says David Johnston, director of marketing and Internet services for the Alumni Association. "Obviously KU's beautiful campus is one of those things that connects generations of alumni to KU. We knew alumni would be interested in this art. Different people connect with different views of campus."
One of the views that connected with Johnston was a painting of Fraser Hall in the fog, done from the perspective of being several miles away from town. It's a view Johnston saw during his track and cross country days at KU, when morning runs would take him into the country.
For many artists, the day was a chance to take apply own style to the KU campus. That was the case for Constance Ehrlich, a Lawrence painter known for her images of cartoon characters who appear to be on vacation.
One of her two paintings shows Gumby, Daffy Duck and others getting their picture taken in front of the Kansas Union with the Jayhawk.
The experience has Ehrlich thinking about painting more on campus.
"It was inspiring," she says. "It was just going out and celebrating the day with other people in our art and craft."
Copyright 2018 The Lawrence Journal-World. All rights reserved. This material may not be published, broadcast, rewritten or redistributed. We strive to uphold our values for every story published.