Audio Clips
2008 Oct. 31 KU basketball practice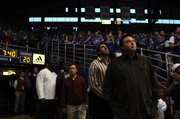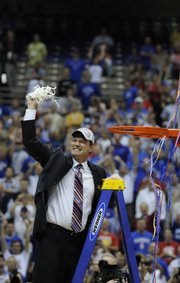 Winning back-to-back NCAA basketball championships is highly unlikely in this day and age of parity and one-and-dones to the NBA.
Yet recent history reminds all it's not unthinkable to clip the nets on college hoops' biggest stage two years in a row.
"I think it's possible. Duke did it. Florida did it," said Kansas University coach Bill Self, who - let's make this perfectly clear - is not predicting his 2008-09 Jayhawks will be the last team standing again this season, just speaking in generalities.
Just two Aprils ago, the University of Florida downed Ohio State in the Georgia Dome in a repeat for coach Billy Donovan's Gators.
Prior to that, one had to go all the way back to 1991 and '92 when Mike Krzyzewski's Duke Blue Devils completed a two-year domination of the sport.
"Duke had everybody return, (Christian) Laettner, (Bobby) Hurley and Grant Hill all came back, which in today's times doesn't happen often," Self said.
"What Florida did won't happen again. You won't have four guys all return like theirs (Joaquim Noah, Al Horford, Corey Brewer, Taurean Green) did," Self added of the Gators putting off the NBA for a chance to win two titles in a row.
"I wish we could have gotten our guys to all come back, but I'm not so sure it wasn't in their best personal interest to go ahead and do what they did," he added of Darrell Arthur, Mario Chalmers and Brandon Rush entering the NBA Draft where they were indeed picked and made teams.
"They did what they came to do. We all benefited from it. Our fans, university benefited from it. It does make it tough, though."
Taking notice of the fact KU lost five starters off its title team, Las Vegas oddsmakers have listed the Jayhawks as 20-1 to win it all in '08-09.
The young Jayhawks will take the court every night with big bull's-eyes on their backs.
"I think they'll find it harder to defend just because they don't have Brandon Rush and Mario Chalmers and Darnell Jackson and all those guys," said former Kansas forward Mike Maddox.
He played on the KU team that went 19-12 a year after the glorious 1988 NCAA title season.
"It's very similar to what happened to us in '89. We lost a lot of experienced players including the best player in the country, Danny Manning. You lose that much talent it's always an adjustment," Maddox added. "They'll learn and get better. By the end of the year, they could be a very competitive team."
Unlike Maddox's 1988-89 team, the 2008-09 Jayhawks are at least eligible to compete in the NCAAs, if they qualify.
"I don't really know what it feels like to defend. Because of the probation we didn't have a chance to defend," former KU forward Mark Randall said.
The Jayhawks were informed on Halloween Day, 1988 that NCAA probation would prohibit the team from competing in the '89 postseason.
"What I do know is what it means to wear Kansas on your chest and how people get up for playing Kansas every year, whether you just won the championship or not," Randall said.
This year's KU team returns just four scholarship players off last year's national title squad.
Back in '88-89, KU returned three starters in Milt Newton, Kevin Pritchard and Jeff Gueldner. There were big losses in national player of the year Manning as well as Chris Piper.
"I remember we weren't very good. That made it a little more difficult," said Maddox, who was part of an eight-game losing streak down the stretch in Roy Williams' first year as KU coach.
The Jayhawks did win their final three regular-season games before falling in the first round of the Big Eight Postseason Tournament.
"I don't think it was any different for the opponents. One thing you realize when you play at Kansas, you always face everybody's best shot. Everybody gets fired up to play Kansas. When you go on the road that's the biggest crowd of the year everywhere you go. It's why you come to Kansas to play in that environment," Maddox said.
Pritchard, who started at point guard for the title team and again the following season, agrees with that sentiment.
"Once you put that big bull's-eye on your back, it makes it difficult. But if you are talented and play the right way, you have a chance," Pritchard said.
"I'm sure (in '88-89) there was extra motivation for teams to beat us. At Kansas that's always the case. As a player you expect it. That's why you come to Kansas."
Of course, it will take time for this year's seven newcomers to learn about opposing teams' and fans' desire to knock off KU, championship or no championship.
"I don't remember outside of Missouri and Kansas State it being that bad," Randall said of opposing crowds' taunts the year after the title.
"You are used to that every game with those guys. You always get that feeling even though we were on probation and couldn't defend we were still defending champions and the University of Kansas, and that won't ever change.
"We learned some hard lessons that year," added Randall, who went on to play in the national title game in 1991 "We win the championship, Larry takes off," he added of coach Larry Brown leaving for the San Antonio Spurs.
"Coach Williams comes in and we are trying to figure out what he was doing. We were a lot deflated knowing we couldn't go to the tournnament. No matter what we did we couldn't go to the tournament. That stunk. But we believed in coach from the first day and played as hard as we could all season. That's what you do when you play at Kansas."
Randall believes the Jayhawks will fare well in attempting to defend this year.
"They will definitely have the target on their back. Can they win? Yes," Randall said.
"I was a huge fan of Cole (Aldrich, sophomore center) throughout the year last year. That North Carolina game ... he was unbelievable. Sherron Collins is back. The only thing that scares me, and this is my opinion, is last year he had Chalmers, Rush ... Sherron had to share the ball and be part of a group.
"This year he'll be counted on a lot. I hope he doesn't go to the overextreme: 'This is my team. I have to carry them. Nobody will help me.' That could be a detriment to the team. By no means am I trying to slam Sherron. He was a huge part of the team last year," Randall noted. "But he had to share the ball more, had a lot of responsibilities. It still will take huge contributions from everybody to have a winning team."
Former KU forward and NBA veteran Scot Pollard, who won a ton of games but never reached a Final Four at KU, hopes fans are realistic.
"It is so hard to win a championship. Coach Self would say it is so hard the first time much less thinking about it the second year," Pollard said. "On top of losing so many players ... come on, let's be realistic. You lose six guys like they did, it's a different team, not like bringing back three starters. Coach Self is starting with a whole new team.
"Nothing against those guys there or coming back, but it'll be a hard road. I never won one much less two. It'll be fun watching them develop."
The Jayhawks, who figure to be much better in February and March than November, aren't putting any limits on themselves.
"There's definitely a chance," senior Matt Kleinmann said. "Now this is a different team. We are still the Jayhawks and still represent Kansas, but it's a very very different team. Do I think these guys have a chance? Of course. We have potential. Once we start coming together on the court, finding our roles, we'll be that much better.
"Until we would have won it all, I thought it might have been almost impossible. It's really tough to win six games in a row against talented teams. Two years in a row it'd probably be just as hard. I will never say it's impossible. There's always an outside chance we can do it again."
Or go down fighting.
"It does make it tough when you lose six of your top seven to have a bunch of freshmen come in to believe you can win the national championship," Self said, "because we've seen first-hand how difficult it is throughout the year. Who knows? We will be pretty good by February I believe."
Self's mentor, Larry Brown, said no matter what happened, the players should embrace being defending NCAA champs. He never had the chance to defend, having moved to the San Antonio Spurs after the '88 title game.
"There are so many young kids on the team. I told some friends that they won't really appreciate being at Kansas until that first game, until they run through that tunnel," Brown said. "Then they'll realize how blessed they are. This school ... that championship in San Antonio was incredible. I was sitting there with two minutes to go, saying, 'Well, they had a phenomenal year.' A second later, lo and behold they are national champions. It's pretty incredible.
"These kids have an opportunity to carry on the tradition," Brown said. "That's what I think will be pretty neat."
Copyright 2018 The Lawrence Journal-World. All rights reserved. This material may not be published, broadcast, rewritten or redistributed. We strive to uphold our values for every story published.