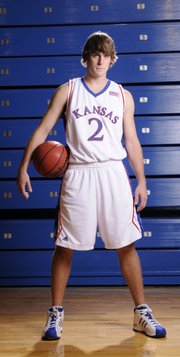 Audio Clips
2008 Oct. 31 KU basketball practice
Memo to Kansas University basketball fans: You need not yell "shoot" when Conner Teahan touches the basketball this season.
Teahan - who has been given the green light to fire from beyond the three-point arc from coach Bill Self - plans on doing just that without any prodding from the stands in this, his sophomore campaign.
"I've always loved to throw it up there. I've never had a problem with that my entire life," said Teahan, a 6-foot-5, 215-pound walk-on out of Kansas City Rockhurst. "That's pretty much my thing. I've got to be a solid defender, but I've got to be able to shoot the ball when I'm open."
Self has made it clear to Teahan he can let the ball fly as long as his feet are set and there's no defender in his face.
"I hope he shoots the same percentage from beyond the arc as last year, just earlier in the game," Self said of Teahan, who hit 12 of 20 threes his freshman season for 60 percent. He made four of seven two-point shots and two of two free throws while logging an average of 3.0 minutes in 21 games.
"Conner is definitely in the mix (for playing time). I don't know what the rotation will be ... I can see Conner having a role, not a huge role unless he cracks into the top five of our perimeter players."
Teahan's goal is to earn meaningful minutes.
"It's been a lot of fun for me playing here (but) it's one of those things where I am not going to be satisfied with them (fans) wanting me to play. I will be satisfied when I can get out there and contribute to the team," Teahan said.
"It's something I have to be focused on. I can't be satisfied coming in the last three minutes and making shots. There's no pressure at all in those situations. It's pretty easy to come out and shoot the ball when if it doesn't go in it doesn't affect the team at all.
"I have to get in some real situations. I know I can handle pressure situations. I just have to prove it on a consistent basis."
Teahan isn't shy about expressing what he needs to provide.
"I am trying to prove I can make the team better when I am out there," he said. "Some people can score a lot of points, some people can rebound. I just want to show when I get out there the team doesn't get any worse. Hopefully we'll get better or at least stay at the same level. You don't want to bring people off the bench if they don't give you a chance to win. Coach Self makes sure people come off the bench and give us an opportunity to win."
He's worked on more than shooting this past offseason.
"I worked on ballhandling, and it got better," he said. "Defensively I feel I'm doing a lot better job. I feel more comfortable out there. I got bigger, stronger, probably put on 10, 12 pounds that I think is muscle. I think my endurance is better. There's stuff I can do now I couldn't last year. I feel I can be comfortable out there a longer period of time.
"Coach told me I need to be somebody that is a ball mover. I need to try to be a come-off-a-pick guy. Coach was joking with me saying I am Mario Chalmers. He was a little bit better coming off picks than I am."
With Chalmers and so many others from last year's title team gone, Teahan hopes to fill a leadership void.
"I'm trying to be a better leader. We don't have many people with much experience," he said. "I can't put myself in the area of having a lot of experience because I didn't play much last year. I do have a year of practice under my belt. I know I'm more aggressive this year. I'll help the freshmen as much as I can."
Copyright 2018 The Lawrence Journal-World. All rights reserved. This material may not be published, broadcast, rewritten or redistributed. We strive to uphold our values for every story published.