Audio Clips
2008 KU-KSU football
-->
Photo Gallery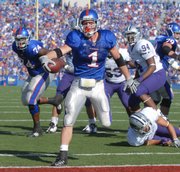 KU vs. Kansas State
5:00 p.m.
The audio interviews have been posted and can be found on the left side of this page. The most breaking news from KU coach Mark Mangino after the game was the announcement that linebacker Justin Springer is out for the year with the leg injury he suffered during the game.
Final, KU wins 52-21.
Jake Sharp ran for a career-high 181 yards and four touchdowns as Kansas dominated the Sunflower Showdown, taking a 52-21 victory over Kansas State on Saturday at Memorial Stadium.
Sharp also added five catches for 76 yards and tied the KU single-game record for rushing touchdowns.
K-State, meanwhile, was haunted by turnovers. The Wildcats (4-5, 1-4 Big 12) turned it over five times and three times in the second quarter alone.
Josh Freeman had four of those miscues, throwing three interceptions to go with one lost fumble. He went 22 of 37 for 207 passing yards with no touchdowns.
Todd Reesing was just 14-for-23 for 162 yards with an interception and touchdown, but the Jayhawks didn't need him much because of an effective running game.
KU rushed for a season-high 280 yards, as Reesing also added nine carries for 47 yards and a TD run.
Dezmon Briscoe added a 3-yard touchdown reception, while Angus Quigley tacked on a 7-yard TD run in the fourth quarter.
The Jayhawks (6-3. 3-2 Big 12) became bowl eligible and reached the six-win plateau for the fourth consecutive year.
Final, KU wins 52-21.
Following another onside kick recovery (was that one really necessary?), the Jayhawks burn the rest of the clock with a run over the middle.
39 seconds left in the fourth quarter, KU leads 52-21.
Lamark Brown adds a 1-yard run as both teams empty their benches. Governor Kathleen Sebelius is shown on the big board, and she is smiling while talking to Lew Perkins. Looks like the KU grad is enjoying this one with the rest of the Jayhawk fans around the state.
4:22 left in the fourth quarter, KU leads 52-14.
The teams trade punts as this one winds down. I doubt if Freeman comes back out for KSU's last drive.
10:41 left in the fourth quarter, KU leads 52-14.
After a pass-interference penalty, Angus Quigley ran untouched up the middle for a 7-yard touchdown. I wouldn't imagine we'll see the starters for both teams much longer.
10:51 left in the fourth quarter, KU leads 45-14.
KU recovered a poor onside kick (that went 17 yards instead of the desired 10), but after a pair of good runs by Jocques Crawford, Reesing was intercepted by Joshua Moore inside the 10. The next play, Freeman threw his third pick, as Russell Brorsen came up with his second interception.
13:18 left in the fourth quarter, KU leads 45-14.
After two more completions by Freeman, Lamark Brown scores on an 11-yard touchdown run up the middle. Will we see an onside kick?
End of the third quarter, KU leads 45-7.
Freeman adds to his highlight clips with a couple of pinpoint passes over the middle to give the Wildcats a pair of first downs. He can make some good throws when given time, but KU's rush and blitzes haven't let him get comfortable so far.
1:54 left in third quarter, KU leads 45-7.
A trick play from Kansas, as Kerry Meier throws a reverse pass down to Jake Sharp at the 2-yard-line (though it appeared on the replay that Sharp was out of bounds when he caught it). The next play, Sharp ran it in from 2 yards out to extend KU's lead to 38. With his fourth rushing TD, Sharp tied KU's single-game record.
2:26 left in third quarter, KU leads 38-7.
Prince does it again, going for it on a fourth-and-11 on his own 29. Freeman overthrows his receiver, and KU will take over. Seems like a couple of desperate moves by a desperate coach.
4:25 left in third quarter, KU leads 38-7.
Helped by a 44-yard catch and run by Jake Sharp on a shovel pass, the Jayhawks score their fifth touchdown on a 3-yard touchdown pass from Todd Reesing to Dezmon Briscoe. Sharp now has 20 carries for 179 yards and four catches for 49 yards.
8:04 left in third quarter, KU leads 31-7.
KSU puts together its first scoring drive, capped by a 4-yard touchdown run by Lamark Brown. Josh Freeman shows his NFL arm with a couple of on-the-moneys throws down the middle: one 19 yards to Brandon Banks and another 24 yards to Aubrey Quarles. Unfortunately for the Wildcats, it's partly Freeman's shaky decision-making that has put them in this big hole.
12:36 left in third quarter, KU leads 31-0.
KSU's defense bails its coach out, moving KU back on a sack then forcing an incompletion on a fourth-and-12 from the Jayhawks' 30.
13:30 left in third quarter, KU leads 31-0.
This one could get out of hand quickly. On fourth-and-8 from his own 28, Prince elects to go for it, and Freeman throws an incomplete pass. Not sure about that decision by the KSU coach.
HALFTIME LEADERS
Kansas
Passing
Todd Reesing 11-for-17, 116 yards
Rushing
Jake Sharp 15 carries, 152 yards, 3 TDs
Todd Reesing 6 carries, 44 yards, TD
Receiving
Johnathan Wilson 4 catches, 33 yards
Kerry Meier 3 catches, 40 yards
Dezmon Briscoe 2 catches, 37 yards
Kansas State
Passing
Josh Freeman 10-for-17, 66 yards, 2 INTs
Rushing
Josh Freeman 6 carries, 28 yards
Lamark Brown 6 carries, 28 yards
Receiving
Brandon Banks 4 catches, 31 yards
Jeron Mastrud 2 catches, 15 yards
Halftime, KU leads 31-0.
KU comes away empty before the half, as Ian Campbell blocked Branstetter's 44-yard field-goal attempt. That makes an amazing eight blocks for KSU this year. Freeman's Hail Mary attempt at the end of the half is intercepted by Darrell Stuckey in the end zone, giving Freeman three turnovers so far.
34 seconds left in second quarter, KU leads 31-0.
KU's defense comes up with another big play, as James Holt delivers a big hit on KSU's Ernie Pierce that causes him to fumble the football. Holt recovered the ball, and after a review confirmed the play, KU will take over at the KSU 45.
1:24 left in second quarter, KU leads 31-0.
After a brief scare when Sharp fumbled (KU recovered it), the Jayhawks' offense continued to roll, as Todd Reesing completed an 80-yard drive with a 15-yard touchdown run on a draw around the right side. Some Kansas State fans on the east side are already heading toward the exits.
2:57 left in second quarter, KU leads 24-0.
Sharp is back in there, and he's running as effectively as ever. On a cutback, he picked up 14 yards up the middle, and followed that with a seven-yard gain on an option left.
6:00 left in second quarter, KU leads 24-0.
K-State elects to go for it on a fourth-and-4 from the KU 43, and Josh Freeman comes through with a 29-yard scramble on a Jayhawk blitz. Four plays later, Freeman makes a careless mistake from the 1-yard-line. As he tried to extend the ball past the goal line with one hand, the ball was knocked away, and Mike Rivera recovered the ball in the end zone.
11:56 left in second quarter, KU leads 24-0.
KU stalls inside the 20-yard-line but still tacks on three points, as Jacob Branstetter connects on a 33-yard field goal. Jake Sharp left the field with what looked like a stinger in his right arm. If it is a stinger, we'll most likely see him back on the next drive.
End of first quarter, KU leads 21-0.
A holding call once again stalls K-State's drive deep in its own territory. After a nice punt by KSU's George Pierson, KU took over at its own 43 but quickly moved into Wildcat territory.
3:00 left in first quarter, KU leads 21-0.
Another quick strike by KU's running game. On third-and-1, Sharp took an option right and sprinted 47 yards down the sideline for a score. He received a great block by Dezmon Briscoe to help him break into the open. Sharp has seven carries for 109 yards with three scores.
4:00 left in first quarter, KU leads 14-0.
A holding penalty on Kansas State negates a first down, and Freeman throws a two-yard pass on third-and-18. KU's defense looks like a different unit, playing with a ton of emotion and energy. It hasn't hurt that this has easily been the loudest crowd at Memorial Stadium this year.
6:03 left in first quarter, KU leads 14-0
The Jayhawks are running it right down the Wildcats' throats. After one passing first down, Sharp follows a 21-yard run to the right with a 20-yard TD run. Sharp has had huge holes to run through, so the credit goes to the Jayhawks' offensive line (especially on the right side).
7:13 left in first quarter, KU leads 7-0
KU's defense comes up with its first big play in two weeks, as Jake Laptad's hit on Josh Freeman forces a high and wobbly throw, and Russell Brorsen comes up with the interception.
10:55 left in first quarter, KU leads 7-0.
The Jayhawks, using mostly passes, move the ball down the field effectively on their first drive. Jake Sharp ended the possession with a 4-yard TD run, but more important were a pair of crucial third-down conversions. Kerry Meier hauled in a fingertip catch for one conversion and Todd Reesing scrambled 15 yards on a third-and-8. The Jayhawks' running game was effective as well (three carries, 19 yards for Sharp), but KU hasn't gone to it too much as of yet.
11:40 a.m.
KU to receive. Here we go.
11:35 a.m.
Another beautiful day for football. Right now, it's 57 degrees under sunny skies, with the wind at 3 miles per hour out of the west-northwest.
11:27 a.m.
Everyone looks to be settling in at Memorial Stadium except for the Kansas State band members. They've been squished shoulder-to-shoulder into a seven-row section across the field from us. I bet that makes it tough to play a tuba.
11:10 a.m.
Both teams are warming up on their respective sides of the field. I will have to say, the white-top, purple-pant Kansas State road uniforms look pretty snazzy. Much better than this mistake from years past.
That brought up another uniform question: When will KU next bring out the red uniforms after last week's blowout loss to Texas Tech? Will we ever see the red unis again?
Sitting next to me, Tom Keegan has added three crazy predictions: Darrell Stuckey will have a pick-six, Raymond Brown will have a touchdown reception and Kerry Meier will punt the ball for KU. Thoughts?
8:30 a.m.
Good early morning to you, and welcome to The Newell Post Live (this is feeling more like a morning blog every week).
We're back this week for the Sunflower Showdown, as Kansas will take on intrastate rival, Kansas State.
Be sure to sign up for Kream Keegan if you haven't done so yet. Journal-World sports editor Tom Keegan and I also will be doing our third "Spodcasters Live" from 11th and Maine Street about a half-hour from now, so be sure to check that out later on the front page of KUsports.com. We'll also be revealing our second mystery player during the podcast for our ticket giveaway. Click on the link for more details.
Without further ado, let's get to this week's true/false, fill-in-the-blank questions.
Kansas will cover the 10.5-point spread against Kansas State.
False. Just another case of Vegas over-emphasizing the home-field advantage. Sure, KU will be helped by playing at Memorial Stadium this week, but as we saw against Texas Tech, those 50,000 fans can't go out on the field and help the Jayhawk defenders. This game should be close, as neither defense has proven it can effectively stop a good offense on the other side. Expect a lot of points, and expect a game that remains close to the final minutes.
True or false: Josh Freeman will throw for 300 yards against KU.
True. You think Kansas is bad at committing to the run? Kansas State has been worse this year. With such a talent at quarterback, KSU coach Ron Prince oftentimes has been content to sink or swim with his future NFL quarterback Josh Freeman. Expect lots of passes from Freeman, and against KU's poor pass rush and jumbled secondary, he should get to 300 yards whether he wants to or not.
True or false: Todd Reesing will throw for 300 yards against KSU.
False. Don't take this as a prediction that Todd has a bad day. I just believe, with all that has happened in the last two weeks, that KU will make a serious commitment to run the ball. Tom couldn't have said it much better in his column on KUsports.com Saturday. We'll see what happens, but I believe the best shot for the Jayhawks to win will be if they run, run, run and then run some more.
If KU wins, it will be because :
it wins the time-of-possession battle and keeps its defense fresh. KU's offense has made it even tougher on the defense lately by having quick possessions, whether they were three-and-outs or quick interceptions by Reesing. The remedy for that is to run the ball, control the clock and keep the defense rested. With their current struggles on the defensive end, the Jayhawks should try everything in their power to keep their own offense on the field.
If KSU wins, it will be because :
it dominates two areas: special teams and trick plays. The last two years, K-State's "Super Bowl" has been the Texas game. This year, Prince became smarter. He's pointed to his team's rivalry game as the biggest for his team, putting a clock in the locker room that has counted down to the KU game since summer workouts. Prince always has been effective at designing and getting his kids to execute trick plays, and I would be surprised if we don't see at least three of them Saturday. Also, the Wildcats' special teams have been phenomenal this year, blocking seven kicks and averaging big yards on punt and kick returns. KSU returner Deon Murphy might not "take one to the crib" as he predicted earlier this week, but with some of KU's struggles on special teams, I'd be surprised if he didn't get one long return against KU on Saturday.
Prediction: Kansas 42, Kansas State 38
Remember this: Though not prone to turnovers this year, Josh Freeman has nine turnovers in his two career games against KU. Freeman has been a great QB for the Wildcats this year, but sometimes-poor decision-making has gotten him in trouble. I'll say that Freeman turns it over at least twice, and KU takes advantage with short scoring drives. Also, the Jayhawks will run the ball better than the Wildcats, giving them a slight-edge, a four-point victory and a six-win season for the fourth straight year.
Copyright 2018 The Lawrence Journal-World. All rights reserved. This material may not be published, broadcast, rewritten or redistributed. We strive to uphold our values for every story published.