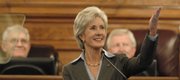 Kathleen Sebelius is the nominee for Secretary of Health and Human Services in Obama's Cabinet. She has served as Kansas' governor since 2002 and before that was insurance commissioner and a state representative.
Gov. Kathleen Sebelius recently announced several appointments to state boards and commissions, including two people with local connections:
¢ Crystal O'Brien, Lawrence, was reappointed to the Advisory Commission for Children with Special Health Care Needs for a four-year term. The commission advises the Secretary of Health and Environment on matters relating to children with special health care needs.
¢ Dennis F. Schwartz, Tecumseh, was among those reappointed to four-year terms as members of the Kansas Water Authority, which is responsible for advising the governor, legislators and the director of the Kansas Water Office on water policy issues. Board members also approve the Kansas Water Plan, federal contracts, administration regulations and legislation proposed by the Kansas Water Office.
Copyright 2018 The Lawrence Journal-World. All rights reserved. This material may not be published, broadcast, rewritten or redistributed. We strive to uphold our values for every story published.