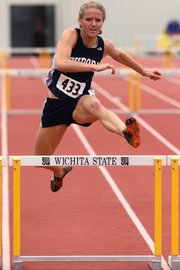 Wichita — There was a lot more riding on Saturday's Class 4A 300-meter hurdles race than just a state title.
For Eudora High senior Emily Ballock, the race was a chance to fulfill four years of promise by completing a career sweep of the race at state. In the stadium she'll soon call home, the Wichita State-bound Ballock blew away the competition, winning by more than a second with a time of 44.83 seconds.
"I felt really good during the race; my legs felt ready to go," Ballock said. "I just came out, started out real relaxed, let the wind push me on the backstretch and then fought into it at the end and tried to finish strong."
Ballock finished the preliminary race in second place at 45.58, one-hundredth of a second behind freshman Jill Kurtz of Chapman. The idea that she may not be able to pull off the four-peat hit Ballock hard.
"Every time the thought crept up, I was like, 'Oh, no,' and just pushed it out of my mind," Ballock said. "It was different, not having the fastest time coming into the finals, but I just let that be my motivator, and I came out and wanted it more, showed my strength and ran well."
The prelim certainly wasn't Ballock's first setback in the 300 hurdles this season. At the Kansas Relays, which Eudora coach Phil Katzenmeier said Ballock was looking forward to even more than state, Ballock finished in fourth place.
"I was really disappointed with that race and just bummed about it," Ballock said after the Relays. Ballock added that she hoped she could use the disappointment to improve in the remainder of the season.
Apparently she knows how to turn a setback into success as she cruised past her competition in the remaining meets of the season en route to the state crown.
Ballock has never been an athlete who competed in just one event, and the 2008 state meet was no different as she accounted for 15 of the Cardinals' 16 team points.
In addition to her state title, Ballock led the 3,200-relay team to a fifth-place finish, took sixth in the 100 hurdles and helped the 1,600-relay team finish 10th.
Still, most of the focus was on the 300 hurdles victory.
"There was a lot of relief," Katzenmeier said. "I know I felt it and I think she did, too. History will tell how great of an accomplishment that was. It's hard to realize what you're doing at the time, but this is pretty rare and, for Eudora, it's never been done before.
"There was just this feeling of, 'She did it!' The expectations were there and you put in the time, but you still have to get it done. Give her a lot of credit because it didn't just happen."
Ballock has logged many emotional moments at Cessna Stadium during the past four years, but it's not difficult for her to pinpoint what she'll miss most about competing there as a high school athlete.
"Definitely the atmosphere, I mean look around," she said. "It's amazing - the fans, the people, the coaches, just everything. Next year I'll be here practicing every day and it will be weird to see it empty because I've never ran here with it empty."
Standing in her familiar place atop the podium after Saturday's victory, Ballock received her gold medal. When Ballock looks at her newest one, alongside the other three she already owns, it may mean a little more. This one signifies the successful completion of a highly anticipated and widely discussed quest that began four years ago.
"After my freshman year, when I won the first time, they started saying, 'Four in a row, four in a row,'" Ballock said. "But every year I came out and kept working towards that goal every step and this is definitely icing on the cake."
Copyright 2018 The Lawrence Journal-World. All rights reserved. This material may not be published, broadcast, rewritten or redistributed. We strive to uphold our values for every story published.