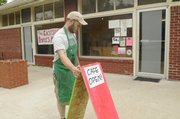 Moving across the country from New York City to Lawrence, Jordan Ferrand-Sapsis expected a bit of culture shock.
But she found it in the most common and unexpected places: the street corner.
Cooking for her housemates soon after her arrival in Lawrence, she had planned to make empanadas - only she forgot to pick up empanada wrappers.
No problem. She thought, "I'll just go to the corner store."
That's when she realized she wasn't in New York anymore.
"I was like, 'Oh! We don't have corner stores here, do we?'" she says.
Fast-forward a few years, and Ferrand-Sapsis and five of her colleagues have changed that, creating the Eastside People's Market, 409 E. 12th St., a collective-run cafe and market. The store opened for limited cafe hours May 1 (11 a.m. to 1 p.m.) and will open the market side and have extended hours (7 a.m. to 8 p.m. or 9 p.m., Ferrand-Sapsis says) starting Monday. Once the market side is set up, Ferrand-Sapsis hopes it can be a combination corner store, cafe and hangout for east Lawrence.
"The space is really hopefully going to be not just a store, not just a cafe, but a community space," says Ferrand-Sapsis, who notes the weekly Friday "bike-in" movies the market has been hosting from 7 p.m. to 11 p.m. "A place for the neighborhood to come together and talk about whatever they want and to meet each other."
Corner store, not megastore
The six members of the collective that runs the Eastside People's Market don't want or expect it to be the place where customers do the lion's share of their grocery shopping for the week. They don't expect it to rival Dillons or Hy-Vee. What they want it to be is the place where people from east Lawrence can pick up a gallon of milk at 7 p.m. without hiking all over town.
"I don't think we'll be a one-stop shop. I don't think we'd ever be big enough to do that, just based on how big we are," Ferrand-Sapsis says. "I think what's been our thinking in a lot of ways (is) we've been trying to figure out what was the last thing I had to run to Dillons for."
But the six collective members - Ferrand-Sapsis, Dave Miller, Danielle Loftus, Chris Lumpa, Ann Iverson, Dave Strano - also don't want it to be your average quick mart, brimming with highly processed junk. They want to give the neighborhood healthy, high-quality food at as-low-as-they-can-get-them prices.
"It's a walking neighborhood, it's a poor neighborhood, it's a working-class neighborhood. Gas is $4 a gallon - food is getting more expensive as it is," Ferrand-Sapsis says.
One way they are planning to keep prices low is by carrying specialty items in addition to the basics.
"We've got a pretty good strategy of trying to keep really staple items down while making luxury items a little more expensive, and people understanding that when they're spending a dollar extra on that organic shampoo, it's going to make sure that other people have rice and beans," Ferrand-Sapsis says.
No matter if it's a basic necessity or a luxury item, the idea is for the product to be as local and noncorporate as possible. Strano says the market's goal is to be hyper-local. They have been in talks with local farmers to get produce for the store and have been out to farms to observe the working conditions and see how sustainable the operation is. And products that aren't made locally will be purchased with care to make sure they are not buying from anywhere overly corporate.
"It is taking a little bit of extra legwork. It's not like we just called Sysco and we're going to make an order through Sysco, you know," Strano says of the food distribution company. "We want to be able to provide people with products that can be grown here locally that are in season and that are healthy."
Veggie-friendly
Another aim is to only carry vegetarian options - no meat at all - and to make an effort to carry hard-to-find specialty vegan items. All six of the collective members are vegetarian, and three are vegan.
"Our goal is to provide healthy food that has as little impact on the environment as possible, so that kind of ruled out meat automatically," Strano says.
One final philosophy the group has for its store: No one is anybody's boss. They would rather work together than work for any one person.
"We call ourselves a collective. The ownership aspects of it are fairly unimportant to us," Ferrand-Sapsis says. "We stress a collective structure and a consensus decision-making model. ... We're trying to create a situation where we're all our own bosses to some degree."
The collective members know that some of these ideas may seem unusual for a store that's looking to serve the area, but they say it is extremely important to them to put keep their philosophies and beliefs in line with their store.
"We're trying to prove to folks also that we don't need to have these structures in place, that businesses and communities can run themselves using autonomous models of organizing," Ferrand-Sapsis says.
Message or not, the members say that every day they have someone coming in excited that east Lawrence has a grocery again.
"People are really excited. The amount of amazing responses that we've gotten has been slightly overwhelming," Ferrand-Sapsis says. "People are really excited to be able to walk to a grocery store in their neighborhood."
Copyright 2018 The Lawrence Journal-World. All rights reserved. This material may not be published, broadcast, rewritten or redistributed. We strive to uphold our values for every story published.