Photo Gallery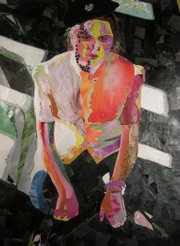 May ArtStar Cali Burke: Portfolio
Cali Burke's favorite artwork is the type she can fit on her finger, arm or neck - rings, bracelets or necklaces.
"I like to make stuff and wear it right away," she says. "I make most of my stuff for myself. Usually I get pretty attached to it."
The recent Free State High School graduate is about to take her creativity to a whole new level.
From jewelry to earth-friendly buildings, the May ArtStar is hoping to apply her skills on a new level next school year as an architecture major at Kansas University.
"It'll be really interesting to see how that works out and how she enjoys it," says Laurie McLane-Higginson, a jewelry teacher at FSHS. "But I think it'll be absolutely wonderful. She thinks 3D. She knows how to think three-dimensional. She'll have fun at that architectural school."
Her projected success is, in part, because of her multi-media interests. That's also the reason she earned this month's ArtStar, which is sponsored Peoples Bank.
Burke is successful in jewelry, but she also has a thick portfolio as a two-dimensional artist, including sketchings and computer-generated works.
Eclectic interests
"She's one of those dream students where you give an assignment and she's just after it," McLane-Higginson says. "She's right on the bandwagon. She will work on her sketches - be working on it pretty much all the time."
Burke fondly remembers her preschool days, when she painted maps to learn geography and art at the same time.
Art was always her favorite subject in grade school, and when it came to junior high and high school, she always chose it as electives.
But she always balanced artwork with an incredibly busy school and extra-curricular schedule. She was involved in the National Art Honor Society, National Honor Society and Girl Scouts, worked part-time at Subway and was president of the Rock Paper Scissors Club at FSHS ("a lot of people think it's a joke, but it's real," she says).
All the while, she earned a 3.98 GPA while taking a heavy load of advanced-placement courses. She graduated with the rest of Free State seniors on Sunday.
"I do a lot at school and when I need to, I stay up really late and do it at home when there are deadlines," she says of her artwork.
But does she see it as a solace in her busy life? Not so much.
"I think I work myself up," she says. "I stress myself out sometimes. I'm kind of meticulous at times."
Bright future
Burke has embraced two-dimensional art in addition to her jewelry works. She also has learned to manipulate and enhance her pieces through digital technology.
Those skills should make Burke successful on the college level, says Carolyn Berry, another Free State art teacher.
"Architects have to draw," Berry says. "They have to use the computer. They have conceptualize. They have to be able to bring a visual to the work they do that is new."
And that is why Burke is excited about going into a new dimension with her artwork - to the world of architecture.
"I know they like you to have a drawing background," she says. "They don't require it or anything. And it just makes everything on the computer and 3-D rendering and stuff a lot easier for you to have an art background. You can visualize everything a lot better."
ArtStar
The ArtStar program, sponsored by Peoples Bank, recognizes seniors in Lawrence high schools who demonstrate outstanding achievement in the fine arts. Honorees also must excel academically.
Nine monthly winners (September-May) will be selected via nomination by fine arts teachers and featured in the Journal-World and on 6News. An overall winner will be chosen from among those and designated ArtStar of the Year. The annual award will come with a scholarship.
In addition, nominations will be taken for promising students outside the senior class for up to two honorable mention spots each month.
For more information, contact Terry Rombeck, Journal-World features/special sections editor, at trombeck@ljworld.com or 832-7145.
Copyright 2018 The Lawrence Journal-World. All rights reserved. This material may not be published, broadcast, rewritten or redistributed. We strive to uphold our values for every story published.