On the street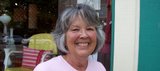 I moved from Lawrence to Houston in 1955, and we drive back here every year on Memorial Day weekend to decorate the graves and pay our respects.
They carry your ornate metal casket to the graveside.
It is a beauty. The polished brass corners and detailed hardware give it the look of fine furniture meant to last generations. It fits well with the backdrop of a manicured cemetery, tightly mowed and peppered with intricately carved tombstones chiseled from a granite quarry far from here.
Then, funeral workers carefully lower the casket, and your perfectly preserved body, into a cement vault that lines your grave.
For most, this time-tested ritual is their final statement on this earth. It is the ultimate swan song.
But recently it has become a song that is a bit off-key to a few. Environmentalists and others who have spent their time on earth promoting a green revolution are starting to think twice about traditional burials.
"People are more interested in a sustainable lifestyle these days," Lawrence City Commissioner Boog Highberger said. "I think there are people looking for an opportunity to have a low impact as they leave the world, too."
Enter the latest of the green trends: green burials.
The concept has begun to take root in a few communities. Santa Fe, N.M., and San Francisco already have cemeteries devoted to green burials. Others are planned in Denver and Madison, Wis.
Highberger is interested in Lawrence adding its name to the list.
"We are the burial plot provider in the community," Highberger said, noting that the city recently took over ownership of the once troubled and privately owned Memorial Park Cemetery. "I think we ought to give people the option."
The noncemetery
Here are the basics of a green burial, according to Joe Sehee, executive director of the Green Burial Council:
¢ No use of toxic embalming chemicals such as formaldehyde.
¢ The use of biodegradable coffins, instead of steel caskets that often take decades to degrade. A green burial also could be done without a coffin by wrapping the body in a shroud or blanket.
¢ The elimination of concrete burial vaults, which Sehee said are wasteful because of all the energy needed to produce and transport cement.
But green burials also could change the face of cemeteries. Green burials likely would not take place in the highly maintained, granite-heavy graveyards that people are visiting this Memorial Day weekend. Instead, visiting the final resting place of a loved one may be much more like a walk through a meadow or forest.
Many times a tree, a grouping of wildflowers or some other piece of nature will serve as a marker for the grave - although some green burials include a GPS chip to mark the location. As for the area surrounding the grave, it largely is left to grow naturally. That means graves could be scattered among trees or covered with prairie grass.
"In its best form, it should look more like a nature preserve than a cemetery," Sehee said.
To Highberger, that's an important part of the concept.
"Just think of the ground a cemetery takes up, and the gasoline it takes to have a cemetery mowed," he said. "I think there are people interested in having less resources set aside for their burial."
Thinking it through
Lawrence city staffers have said the idea looks feasible in Lawrence.
Ernie Shaw, city interim director of parks and recreation, has identified an approximately 50 foot by 60 foot area at the city's Oak Hill Cemetery that could accommodate about 55 green burials.
The largely wooded area could be converted for very little cost, Shaw said, because he's proposing to only remove some underbrush and plant a few additional natural grasses and flowers.
Funeral directors in the city said they're not opposed to providing the option but don't want to portray the traditional methods as being wrong.
"We are a people who want choice," said Larry McElwain, an owner of Warren-McElwain Mortuary. "There are people who will say they want to leave no footprint, basically, and they want a way to do that. But as far as saying that we're adversely impacting the environment the way we are doing it today, I think that is a pretty weak argument."
McElwain said he thinks the bigger issue with green burials is ensuring that family members truly understand what is involved with the concept. For example, does a green burial mean that a gas-powered back hoe and dump truck prepare the grave? How is a body that is not in a casket respectfully lowered into the grave? How will the family respond to a body that has not been embalmed?
"People could like the idea of a green burial, but then they get out to the cemetery and see how it is done, it could be very repugnant to them," McElwain said. "How do you go back at that point? That concerns me."
Bart Yost, a funeral director at Rumsey-Yost Funeral Home and Crematory, said he's also fine with providing the option but doesn't think it is one that would be used often.
"There is a lot of tradition we're talking about here," Yost said.
But Sehee, whose Santa Fe-based council has been in existence for three years, said funeral homes are becoming more receptive to the idea after they realize a green funeral probably will cost more than a cremation.
"There are many funeral homes recognizing that this is trending mainstream very quickly," Sehee said. "It is emerging more quickly than we imagined. I think it just represents where America is at right now."
Copyright 2018 The Lawrence Journal-World. All rights reserved. This material may not be published, broadcast, rewritten or redistributed. We strive to uphold our values for every story published.