Photo Gallery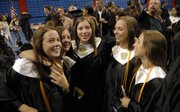 Lawrence High Commencement 2008
The heat inside Allen Fieldhouse couldn't keep the emotion down during the Lawrence High School graduation Sunday afternoon.
"Our school prides itself on embracing individuals," said Timmia Hearn-Feldman, a co-valedictorian, in her address to classmates.
The school celebrated as 366 students participated in the ceremony out of 422 total graduates, administrators said.
Air horns, flying beach balls and loud cheers were common during the 90-minute ceremony that proceeded amid temperatures above 80 degrees inside the fieldhouse, which does not have an air-conditioning system.
Administrators and school board members lauded the graduates for their success in academics and activities.
"We now look to you and ask that you begin to endeavor to make this world a better place for future generations," Superintendent Randy Weseman told the graduates.
Copyright 2018 The Lawrence Journal-World. All rights reserved. This material may not be published, broadcast, rewritten or redistributed. We strive to uphold our values for every story published.