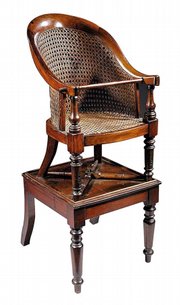 Creative cabinetmakers have enjoyed making dual-purpose furniture for centuries. A desk with a drawer that opens to a bed, a chair that can be flipped to become library steps or bed steps, a table with a top that flips up to become the back of a bench, and other clever examples were made by the 18th century.
There was even an 1866 patent for a piano that opened up to be a "bedroom" with a bed and chest of drawers. But an 1883 combination sofa and bathtub is our favorite. Children's furniture was a special challenge. A Victorian folding chair that could become a stroller, rocker, carriage or highchair is often found today. In the mid 19th century, an English mahogany child's chair was made with a table-like stand. Together the parts made a highchair. Apart it was a small chair and table the right size for a child. It sold recently in New Orleans for $1,998. The chair-into-steps and the child's convertible stroller are ideas that are still in use. But we doubt any new bathtub-sofas are being made.
When did the modern-type engagement ring, the single diamond on a decorated band, become popular? What would an antique engagement ring look like?
Before the 15th century, a bride was given a simple iron ring, if any ring at all. But in 1477 Archduke Maximilian of Austria gave a diamond engagement ring to Mary of Burgundy. The idea spread, but engagement rings were made with many different stones and decorated bands for many centuries. In 1870 diamonds were found in Africa and the large supply made the price drop. The well-to-do, not just royalty, could afford a diamond engagement ring. In 1866 the prong-mounted diamond ring by Tiffany & Co. was the ring to have. In the 1900s, new tools allowed jewelry makers to create elaborate decorations, including pierced filigree and graining. Platinum and white gold replaced yellow gold in popularity. Old and new style rings are still made. Many recent rings are very plain and use gold, platinum or even steel as the band.
Q. About 15 years ago, I bought a cast-iron Kenton toy cement mixer at an Atlantic City antique show. The mixer's body is embossed "Jaeger" on the sides, and the toy has rubber tires. It's 8 1/2 inches long and 7 1/2 inches high. Is it valuable?
A. You have a very collectible toy that Kenton Hardware Manufacturing Co. introduced in 1932. Kenton was founded in Kenton, Ohio, in 1890 to make locks. Within a few years, it began making toys. Kenton made four cement mixers using the brand name Jaeger, referring to the Jaeger Machine Co. of Columbus, Ohio. The two models with rubber tires, including yours and a smaller model, date from about 1940. World War II stopped production at Kenton because metal was needed for munitions, not toys, and Kenton closed in 1952. If your toy has not been repainted and is in excellent condition, it could be worth $500 or more.
Q. I am curious about my miniature rose bowl. It's marked with a crown surrounded by the words, "Coalport Bone China, Made in England, AD 1750."
A. Coalport Porcelain Works, also known as Coalbrookdale, dates back to the 1790s - even though the "AD 1750" in your mark supposedly refers to the year the company was founded. Coalport started making miniatures, including rose bowls, tea sets, pin trays and baskets, in the 1880s. The mark on your rose bowl isn't an early one. It was used after World War II until about 1960. Your bowl would sell for about $10.
Q. I have four glass flasks originally sold filled with Lestoil liquid cleaner. The bottles were available for a limited time. I wonder if they're worth anything.
A. The Lestoil Co. of Holyoke, Mass., sold its liquid cleaner in special-edition reproduction glass flasks in 1963-64. The reproductions were marked only with a paper label around the neck. The flasks resemble 19th-century historic whiskey flasks and came in streaky blue, green, amethyst, amber or clear glass. Clues to tell a reproduction from an old flask: a reproduction has a rolled collar and a smooth bottom (sometimes with a mold number); an antique flask has a plain, straight-up lip and a pontil mark on the bottom.
Copyright 2018 The Lawrence Journal-World. All rights reserved. This material may not be published, broadcast, rewritten or redistributed. We strive to uphold our values for every story published.