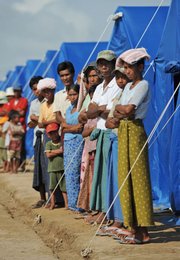 Kyondah, Myanmar — U.N. chief Ban Ki-moon flew over Myanmar's flooded Irrawaddy delta on Thursday, where the ravages of a cyclone stretched as far as the eye could see: Villages were empty of life, flattened huts dissolved into vast areas of water and people perched on rooftops.
Nearly three weeks after the storm, life was grim even at a refugee camp showcased by Myanmar's junta during the carefully scripted tour.
"I'm very upset by what I've seen," Ban said, visibly shaken by the firsthand look at the devastation, even though the areas to which he was taken were far from those worst-hit by Cyclone Nargis.
Before his helicopter flyover, Ban had said he was bringing a "message of hope," to Myanmar's people following the May 2-3 cyclone, which claimed more than 78,000 lives, according to government figures, and left more than 56,000 missing.
Myanmar's military rulers have been eager to show they have the relief effort under control despite spurning the help of foreign disaster experts, and much of the tour was taken up by statistics-laden lectures to make that point.
The U.N. says up to 2.5 million cyclone survivors face hunger, homelessness and potential outbreaks of deadly diseases, especially in the low-lying areas of the Irrawaddy Delta close to the sea. It estimates that aid has reached only about 25 percent of victims.
The four-hour tour Thursday included two stops - one at Mawlamyinegyun, an aid distribution point stocked with bags of rice and cartons of bottled drinking water and the other at a makeshift camp where 500 people huddled in tents in the village of Kyondah, about 45 miles southwest of Yangon.
Still, the destruction in the region was relatively mild compared to Labutta and Bogalay to the south, where the Red Cross said rivers and ponds were full of corpses and many people have received no aid. Officials gave no explanation for why Ban was not taken to those areas, where most of the dead and missing were reported.
By contrast, Kyondah - which has electricity and clean water - is somewhat of a showcase and was selected for visits by senior junta members, foreign embassy officials and international aid organizations last week.
At the camp, the secretary-general was given a detailed explanation by Maj. Gen. Lun Thi of how Kyondah, formerly a cluster of seven villages with a population of 5,228, has expertly handled relief efforts. The village had 122 dead and missing, he said.
He displayed charts saying the camp had 300 bags of rice, 64 boxes of instant noodles, 1,500 eggs, 12,000 bottles of drinking water and 1,240 pieces of preserved meat. Also listed were napkins, steel bowls, blankets, T-shirts, tarps and men's and ladies' underwear.
While the general spoke, Ban sat in the front row of an elaborately constructed sitting room where bowls of fruit and soda were served. Ban ate and drank nothing.
Once the lecture was over, Ban strode into the camp, stopping at tents to look in on the homeless families, some with children as young as a day old.
"The whole world is trying to help Myanmar," he told one family in the camp, where inhabitants had cooking pots and blankets that appeared to be new stacked neatly in their tents. Some smiled at him, but said little.
An idea of the storm's destructive force was more obvious from the air.
The two helicopters carrying Ban's party flew over seemingly endless fields surrounded by flood waters, villages with destroyed houses, rivers swollen past their banks, people huddled on rooftops or in makeshift tents, or moving around in boats.
In some areas, the flooding stretched as far as the eye could see, with people living in damaged homes that looked completely cut off.
Copyright 2018 The Associated Press. All rights reserved. This material may not be published, broadcast, rewritten or redistributed. We strive to uphold our values for every story published.