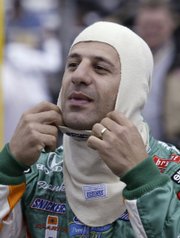 Indianapolis — For some drivers, winning the Indianapolis 500 would make their career. Tony Kanaan isn't looking for any such validation.
Good thing, too.
The good-natured Brazilian has done everything except win the biggest event in American open-wheel racing.
Kanaan's sixth-place start in Sunday's 92nd edition of the Indy 500 will be his worst in seven races, while his finishes have included a second (in 2004), a third, a fifth and an eighth. He is the only driver who has led in each of the last six 500s.
That record has made Kanaan a perennial favorite to win at Indy. And he easily could have two or three victories if not for circumstances and mistakes.
Last year, he had the strongest car in the race, leading half the rain-shortened 166-lap event. But Kanaan spun out to avoid a crashed car in front of him and wound up 12th when rain cut short any hope of a comeback just 10 laps later.
That was just the latest disappointment for Kanaan, who seems able to win anywhere but Indianapolis.
Though he may not get the attention like two-time Indy winner and childhood friend Helio Castroneves or fan favorite Danica Patrick, Kanaan has proven time and again he is one of the best drivers in the IRL IndyCar Series. He won the championship in 2005 and has won at least one race each of the past five seasons.
But don't expect Kanaan to complain about anything as minor as having bad luck at Indy.
After losing his father at a young age and spending much of his youth in poverty, Kanaan now lives in a mansion in Key Biscayne, Fla., with wife Daniele and 8-month-old son Leonardo, his pride and joy.
"The way I got brought up, with all my difficulties, I learned how to accept facts and understand what you can and what you cannot do," Kanaan said. "I'm not saying I'm satisfied with what I have all the time, but I think I came a long ways.
"I achieved, I conquered; I won a championship, which I believe is far more difficult than winning one race."
And, while Kanaan acknowledges that Indy is "THE race," he is prepared to walk away eventually without a win here, if it comes to that.
"As long as I understand the situation I was in and understand, inside myself, that I did everything I could - I didn't let myself down - I'm at peace with myself," Kanaan said. "Do I want to win the 500? As bad as anybody else.
"If I retire one day without winning the 500, I'm not going to be frustrated. It's going to be something that was a goal that maybe, for some reason, I did not achieve. But I think we all, as human beings, have many goals that we don't achieve. That's why you make a priority list.
"If you have 10 goals and you achieve five of them, you should be happy," he added. "You should be unhappy if you did not achieve anything."
The 33-year-old Kanaan still has time on his side, and insists he has more desire to win than he did as a youngster.
"When you're a kid, you have a bunch of priorities," he explained. "You want to be in the race, but you want to go party, you want to go spend time with your friends in Brazil, you want to go to dinner.
"When you're getting older, you kind of slow down and say, 'I don't want to party anymore. I'm married. I have a kid.' So you come from 10 different options down to three: Racing, your personal life and whatever jobs you have on the side. But I enjoy every minute I have on the racetrack. I think I show that on my face and every time I talk about it.
Dan Wheldon, who now drives for rival Target Chip Ganassi Racing, won the 2005 Indy 500 while he was one of the Kanaan's Andretti Green Racing teammates.
"I believe that TK will win this race some year," the Englishman said. "He's so good here, eventually things have to go his way. But, even if he never wins it - which would be a shame - Tony is a great race driver, one of the best.
"I just don't think he's appreciated as much as he could be because he does everything so quietly and professionally."
Of course, everything could all change Sunday with a Kanaan victory. And it wouldn't surprise him.
"It's a place that definitely suits me," Kanaan said. "I just need to get the job done.
"You can't be that selfish to say, 'This place owes me,' because how many other drivers does this place owe? I take it as an auto race and I've got to do the best job I can. And, if I do that and I lead the right lap, I'll win."
Copyright 2018 The Associated Press. All rights reserved. This material may not be published, broadcast, rewritten or redistributed. We strive to uphold our values for every story published.