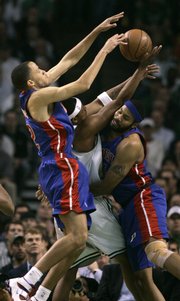 Boston — Home wins are no longer good enough for the Boston Celtics. The road to the NBA finals in the Eastern Conference now goes through Detroit.
Richard Hamilton bounced back from a poor series opener with 25 points, and the Pistons beat Boston, 103-97, Thursday night, tying the conference finals at one game apiece and seizing the home-court advantage that has meant everything to the Celtics.
"It is even," forward Rasheed Wallace said. "We don't sit back and say, 'Oh, look. They are undefeated at home,' or 'They didn't win a game on the road.' ... A lot of the teams they played in the postseason and the regular season were scared of them, as far as KG and Ray and Paul. They are good players, but we have good players, also."
Kevin Garnett had 24 points and 13 rebounds for the Celtics, who lost at home for the first time since March 24 against Phoenix. No team has reached the finals without a road victory, and there's no longer a chance for Boston to be the first.
"I fully believe, and I've said many times, at some point we're going to have to win on the road," Celtics coach Doc Rivers said. "We've gotten away with it thus far. That's been taken away. And if we want what we want, we have to win on the road and that's just the way it is."
Chauncey Billups had 19 points and seven assists, and his rookie backup, Rodney Stuckey hit some clutch jumpers in the fourth quarter and added 13 points for the Pistons, who play host to Game 3 on Saturday.
"The atmosphere's going to be crazy," Hamilton said. "We're geeked about getting back to our home court. The fans are excited, and now it's our job to take care of home court."
Paul Pierce scored 26 points for the Celtics, who had won 15 straight at home and gone 9-0 in the playoffs. But the only record that matters now is 0-6 - their playoff road mark.
"We have no choice now but to get it done on the road," Pierce said.
Ray Allen broke out of a shooting slump with 25 points, his best performance in three months. But he was limited to 29 minutes by foul trouble, picking up his fifth foul with 3:09 left in the third quarter after his flurry had given Boston the lead.
"I would rather be sitting here saying I can't make a shot but we won the game," Allen said. "I knew at some point my shot had to drop."
Antonio McDyess scored 15 points, Tayshaun Prince had 14, and Wallace had 13 points and 10 rebounds for the Pistons, who were rusty in Game 1 but found their groove in the second quarter of this one, shooting 49 percent against the league's best defensive team.
The Pistons led 86-75 after Stuckey's jumper with 8:05 remaining.
Allen had seven points, including his first three-pointer since Game 5 of the second round, during a 13-4 run that cut it to 90-88 with 4:39 to play.
Later, Boston was down four and forced Detroit to call time with the shot clock about to run out, but then blew the defensive assignment and left Billups alone for a layup on the inbounds. Detroit led 100-94 with 18 seconds left.
Another three by Allen cut it to three, but Wallace hit a free throw on the other end. The Pistons were 28-of-32 (87.5 percent) from the line.
Billups was limited to nine points in Game 1, his first action since straining his right hamstring early in Game 3 against Orlando in the second round.
He shed the tights he wore in the opener and came out aggressively, drawing a foul on the first possession and hitting two free throws. He added two free throws later in the first quarter when he appeared to create contact while attempting a three-pointer by kicking the Celtics' Eddie House in the groin.
"One thing I told Chaunce, you ain't got to be overaggressive out there," Hamilton said.
Copyright 2018 The Associated Press. All rights reserved. This material may not be published, broadcast, rewritten or redistributed. We strive to uphold our values for every story published.