Photo Gallery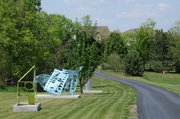 The Gaumnitzes' Garden
Cruising down the long, winding driveway as I approached Jan and Jack Gaumnitz's home, it feels like I am entering an exclusive, secretive and secluded sculpture garden.
There is an elite sensation that you are one of the few to view these sculptures, which are each extraordinarily unique - some are feminine and curvy, others are stoic, a handful are whimsical, many are massive and colorful. It is not every day that you get to tour a garden with hardscapes that are 15 to 20 feet high and are not the typical trellises or fireplaces but rather are personal expressions of the homeowners.
It all fits together like a puzzle, however, when you meet the homeowners, Jan and Jack Gaumnitz.
The home itself, in West Lawrence, was unmistakably constructed with one of the primary goals to display art. The ceilings are high and angular, there is natural light filtering in through walls of windows and skylights and everywhere you turn fabulous art is flaunted.
Jan says of their home, "A lot of people, when they come here, think it's like a gallery. To me, it is a living place to interact with the art and plants. Sometimes I'm critical, sometimes I'm appreciative."
She has honed her eye as a working ceramist. When the couple bought the property, they knew they would one day fashion their dream home here, but for many years the 35 acres only housed her studio where Jan spends much of her time. While Jan is not a welder, many of the enormous metal pieces are her designs that she creates and then takes to Kansas City to Central Industrial Sheet Metal who then take her visions and make them into a tactile reality.
Which came first, the chicken or the egg? The plants and landscaping came first, and then the sculptures evolved from what nature and Jan's green thumb had created.
Jan says, "You don't paint a painting to match the sofa. I do the sculpture because I want to and then we find a place to put it. It's like a house you have the shell and then you fill it in. People tend to think of artists as someone who paints, but there are a lot of creative endeavors like gardening that are a lot like art, it is the creation of it.
"Planting a garden is like painting, I'm thinking composition, color, big leaves, little leaves, texture. That is the fun part. The bad part is when you invest a lot of money and the plants don't come up."
A large difference, however, in having your art outside is that the weather, the seasons, the light, temperature, atmosphere and everything Mother Nature wants to throw at us is reflected onto that art. It becomes an interactive marriage of art and nature combined with the viewer and the gardener.
"Since the art is in the landscape and the landscape is always changing it makes the finished piece of sculpture an ever-changing sculpture," Jan says. "For instance, the winter is when the sculptures really stick out, like a tree without its leaves that is when you really can see the tree."
The Gaumnitz's home is airy and open in the front with a large perennial garden at the entryway and a babbling pond to greet visitors. However, when you enter the home and witness the bank of forest that hug the backside it is an interesting juxtaposition that they have taken full advantage of with his and her screened in gazebos, much like tree houses just propped into the middle of the dense tree cover. There they witness nature at her finest.
Jack, the left-brained former business professor, has come to appreciate how Jan sees the world.
"It is wonderful to see nature through Jan's eyes," he says. "When we first drove through the Flint Hills, she saw all the beauty. It wasn't obviously beautiful like mountains or waterfalls to me but she saw it right away. It took me a long time to see the beauty. She is much more observant of our surroundings; art and nature tend to go together."
The artist and the business professor have fused to create a humorous outlook on what is art and gardening.
"Jack would like to mow everything!" Jan says. "So, I'll give him 12 feet along the drive then the rest has to be wild. For me, it is fascinating to see how things grow. I love the cycle of life you observe in the garden. I enjoy being a caregiver."
For Jack, he says, "I like certain aspects of gardening but its more the rewards you get from the journey that I enjoy, such comfort to the eye. I am more of an observer."
The Gaumnitzes have branded their personal stamp on the landscape, intertwining nature and art in a beautiful fluid way, creating a wonderful world of pronounced steel and twisted metals with a soft perennial plant or a flowering tree.
One would just not look as distinct without the other.
Copyright 2018 The Lawrence Journal-World. All rights reserved. This material may not be published, broadcast, rewritten or redistributed. We strive to uphold our values for every story published.