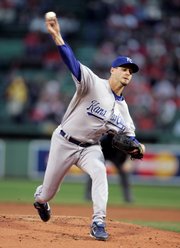 Boston — Rookie Justin Masterson pulled into town in time to watch Jon Lester's no-hitter on his hotel television.
Then he pitched the Boston Red Sox to another victory over the Kansas City Royals, even though the 2-1 victory Tuesday night might not have met his wildest expectations after he watched Lester's masterpiece.
"I was excited. Of course, then the (television) announcer said, 'have fun following this one, Justin,'" Masterson said with a big smile. "Rolling through my mind was I wanted to throw a perfect game or maybe back-to-back no-hitters, but that was taken away in the first inning."
David DeJesus doubled with two outs in the first, but Masterson (1-0) allowed just two more hits before leaving with a 2-0 lead with one out in the seventh inning.
Just one night earlier, Lester beat the Royals, 7-0, with the first no-hitter of the season.
After Tuesday's game, Masterson, a 6-foot-6 right-hander with a deceptive whip-like motion, was optioned to Triple-A Pawtucket to make room for former AL Cy Young winner Bartolo Colon, who will make his first start of the year in his 12th major-league season today.
Masterson will be a tough act to follow, just as Lester was.
"I don't really mind" going to the minors, said Masterson, who was brought up Tuesday from Double-A Portland.
He allowed one run on three hits with five strikeouts and three walks in his second major-league start. Manager Terry Francona expects him to make many more.
"You can make some mistakes by rushing guys" to the majors, he said. "He needs to go pitch and enjoy his development and enjoy getting better."
Copyright 2018 The Associated Press. All rights reserved. This material may not be published, broadcast, rewritten or redistributed. We strive to uphold our values for every story published.