Lawrence and national experts offer money-saving advice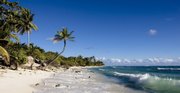 -->
-->
-->
Lawrence resident Mike DeLeo won't be taking a vacation this summer.
He can't afford it.
Sometimes he flies to visit family on the East Coast, but not this year.
"We just don't have the extra money this year, not at all," he said. "Maybe we'll just go to the lake a couple of times, that's about it."
DeLeo isn't the only one cutting back this summer.
"Our survey indicates at least for the Memorial Day weekend that travel is going to be down for the first time since 1998," said Jim Hanni, executive vice president for AAA Kansas. "Memorial Day is pretty much a mirror of what we expect for the summer."
AAA estimates that 37.9 million Americans will travel 50 miles or more for the Memorial Day weekend this year, down 1 percent or 360,000 people from last year. Eighty-three percent of those traveling will do so by motor vehicle.
"That's pretty good considering we've had a sluggish economy and what's happening with gas prices," Hanni said.
Opting to fly won't be cheap, either. AAA estimates ticket prices to increase about 8 percent compared with a year ago, but that doesn't include the fees that airlines are tacking on for items such as fuel, extra bags and aisle seats. Kansas AAA Travel agents report fuel surcharges have been between $25 and $50 for domestic flights.
"There are a lot of extra fees. The airlines are just trying to do anything they can to make a little bit of extra money," said Anne Banas, executive editor of SmarterTravel.com. "Airfares are just getting higher, so it's a really tough economy for flying."
Cutting back
Lawrence resident Lauren Hoopes said she spent about 20 percent more than she expected for three airline tickets to San Diego. She is taking her children, Alexandra, 14, and Nathaniel, 10, to California for the first time.
To help make up for the higher cost, Hoopes is cutting the vacation to five days instead of seven or nine, and she aggressively shopped for hotel deals. Once there, she hopes to save money by stocking the hotel refrigerator with food and snacks and by visiting one or two fewer attractions.
"We sort of went back and forth on whether we could really afford to do this and then balanced that against the mental health of not doing it and came to the conclusion that it was really important, especially for me, to get out of town and get in a different environment that would be fun and relaxing," Hoopes said.
Banas, of SmarterTravel.com, said Hoopes' plans are common this year.
"People are staying closer to home, so instead of going on a big trip to Italy or France or whatever, they are staying in the U.S. They are thinking about driving vacations that are closer or use less gas and some people may be just staying in a cheaper hotel than they normally would and others are taking shorter vacations," she said.
With talk of cutbacks, Lawrence travel agent John Novotny, vice president of operations at Travellers Inc., said he feels fortunate.
"There's still a lot of interest in travel," he said. "I think the economy is a little better in this part of the country than other places and I think people have so much stress in their lives that they've made travel more of a priority than maybe they have in past years."
He hasn't seen across-the-board price increases, but said that's because Kansas City International airport is one of the five most competitive in the nation.
"There are destinations that are more market-driven and have less competition," he said. "That's what really causes increases, is the changes in competition."
For example, as people try to save by booking cheaper hotel rooms, they have driven up those prices. According to AAA's survey, hotel rates for AAA 3 Diamond hotels are expected to be 7 percent less than last year with travelers spending an average of $162 per night. However, travelers planning to stay at AAA 2 Diamond hotels will pay an average of $112 per night, which is 9 percent more than a year ago.
Whether traveling by car or plane and no matter where you stay, there's one surefire way to save money on a vacation, travel experts say.
Wait until after Labor Day. The savings can be between 25 percent and 50 percent.
"You can have a really great, quieter vacation and you can save a ton of money," Banas said.
Copyright 2018 The Lawrence Journal-World. All rights reserved. This material may not be published, broadcast, rewritten or redistributed. We strive to uphold our values for every story published.