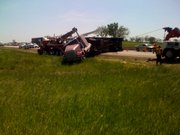 A semitrailer rolled over this morning 10 miles east of Lawrence on Interstate 70 and was blocking westbound traffic, a Kansas Turnpike Authority dispatcher said.
Troopers are still gathering information, but minor injuries have been reported, the dispatcher said.
The rollover wreck occurred in Leavenworth County, 3 miles west of the eastern turnpike toll and ticket booth. The dispatcher said initially the truck was blocking some traffic, but as of 11:15 a.m. troopers reported it no longer was.
Witnesses reported traffic was down to one lane earlier this morning.
Copyright 2018 The Lawrence Journal-World. All rights reserved. This material may not be published, broadcast, rewritten or redistributed. We strive to uphold our values for every story published.