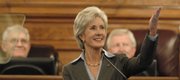 Kathleen Sebelius is the nominee for Secretary of Health and Human Services in Obama's Cabinet. She has served as Kansas' governor since 2002 and before that was insurance commissioner and a state representative.
Topeka — Eminent domain and water rights are going to get two years of study courtesy of a bill signed into law Monday by Gov. Kathleen Sebelius that started over a Douglas County water dispute.
Supporters of HB 2860 said it was needed to prevent the state from allowing Public Wholesale Water Supply District No. 25 from using eminent domain to appropriate water.
They said that was needed to protect Kansas River Valley farmers from losing availability to water to grow a wide variety of specialty crops.
The bill would put the water district's proposal on hold for two years and require a special committee to study issues concerning the use of eminent domain in trying to attain water rights.
Copyright 2018 The Lawrence Journal-World. All rights reserved. This material may not be published, broadcast, rewritten or redistributed. We strive to uphold our values for every story published.