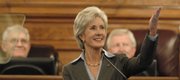 Kathleen Sebelius is the nominee for Secretary of Health and Human Services in Obama's Cabinet. She has served as Kansas' governor since 2002 and before that was insurance commissioner and a state representative.
Topeka — Gov. Kathleen Sebelius on Monday signed into law legislation aimed at increasing drug and alcohol tests at the scene of traffic accidents.
The measure - House Bill 2617 - was conceived by Dennis and Denise Bixby, of Tonganoxie, whose daughter Amanda, 19, was killed in a Valentine's Day 2007 wreck near Basehor.
Upon hearing of Sebelius' action, Dennis Bixby said he was relieved.
"A lot of people went to a lot of work to do all this," he said. He commended state Rep. Kenny Wilk, R-Lansing, for introducing the bill.
The measure increases the authority of law enforcement to order a test for drugs or alcohol in a vehicle accident that results in a death or serious injury.
The Bixbys have said the driver responsible for the collision that killed their daughter should have been tested for drug use.
Copyright 2018 The Lawrence Journal-World. All rights reserved. This material may not be published, broadcast, rewritten or redistributed. We strive to uphold our values for every story published.