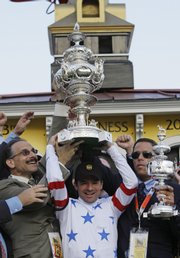 Baltimore — Big Brown's owner took care of some important business even before he got to Pimlico Race Course on Saturday for the Preakness.
IEAH Stables co-owner Michael Iavarone signed a multimillion-dollar deal Saturday that will have Big Brown stand at stud at Three Chimneys Farm in Midway, Ky., whenever the potential Triple Crown winner's racing career ends.
"Believe it or not, it got signed as I was on my way to the racetrack," Iavarone said after Big Brown charged to an easy victory in the Preakness.
The victory, coupled with his triumph at the Kentucky Derby, put him in position to complete the Triple Crown with a victory at Belmont.
"It was a tumultuous week for us. We tried very hard to get the deal done with Three Chimneys," Iavarone said. "We're just honored to be in business with the likes of Three Chimneys. I'm sure they're honored right now with their move."
Precisely.
"He's a magnificent physical specimen. He's a dominant athlete, really," said Henry Clay, president of Three Chimneys. "An incredible talent. And I think his mind is extraordinary. He sort of knows he's good. And, you know, proves it."
Clay is happy to wait until Big Brown is done racing before sending him to stud.
"They have total control of his racing career," he said. "When they deliver him to Three Chimneys, we'll start to manage him."
In the meantime, Clay will enjoy watching his investment charge toward a Triple Crown. Asked to assess Big Brown's performance Saturday, he responded, "It confirmed his dominance in this crop of 3-year-olds. ... Having won every race he's won with such ease, I don't think we've actually seen what he's truly capable of."
Financial terms were not disclosed, but Clay such seemed pleased with the deal.
"I have the best horse of a generation. It's fantastic," he said. "It's hard to get these stallions, so we're thrilled to have him."
Copyright 2018 The Associated Press. All rights reserved. This material may not be published, broadcast, rewritten or redistributed. We strive to uphold our values for every story published.