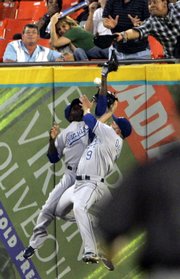 Miami — Discussing the victory that broke the Florida Marlins' four-game losing streak, Scott Olsen leaned toward the adjacent locker where Mike Jacobs sat.
"It's pretty nice to have Jacobs back in the lineup," Olsen said in a near-shout.
Jacobs looked over at his grinning teammate.
"Thanks, buddy," Jacobs said. "You better say that with me sitting right here."
Olsen was joking, but he spoke the truth. Back in the starting lineup for the first time since May 7, Jacobs hit an RBI triple and a two-run homer Saturday to help the Marlins beat the Kansas City Royals, 7-3.
The result ended the Royals' five-game winning streak, their longest since last June. It also kept the Marlins atop the NL East, even though they had lost their past four games by a total of five runs.
"It's just nice to win after losing four in a row," said Olsen, who made it through six innings with less than his best stuff. "Whatever works."
Olsen allowed seven hits and five walks and departed trailing, 3-2. But Wes Helms hit a three-run pinch-hit homer in the seventh, giving the Marlins their first lead in 38 innings, and Jacobs capped the five-run inning with his homer.
Jacobs had been sidelined due to a tight right thigh.
"You get back out there and you're a little nervous," he said. "You don't want to push it too hard. You don't want to not push it hard enough.
"But ... the home run trot is OK."
Jacobs has 10 home runs and 27 RBIs in only 34 games. The Marlins and Philadelphia are tied for the major-league lead in homers with 62.
"Having Jake back makes that lineup a little more balanced," manager Fredi Gonzalez said.
The Royals were seeking their first six-game winning streak since beginning the 2003 season with nine straight victories. They also failed in a bid to reach .500, instead falling to 20-22.
Florida trailed, 3-2, when Luis Gonzalez opened the seventh with a single. Mike Rabelo walked, and Helms hit his sixth career pinch-hit homer off Brian Bannister (4-5).
Helms misinterpreted a sign and tried to bunt before homering on an 0-2 curve. With a smile, manager Gonzalez said Helms would not be fined.
"That negative turned into a positive and maybe kept me from paying anything," Helms said.
Bannister gave up six runs and seven hits in 61â3 innings. He threw 107 pitches and said he tired in the seventh.
"I went out there and kind of was pitching on fumes but thought I could get it done," he said. "But my pitch quality was kind of deteriorating, and I wasn't hitting spots."
Copyright 2018 The Associated Press. All rights reserved. This material may not be published, broadcast, rewritten or redistributed. We strive to uphold our values for every story published.