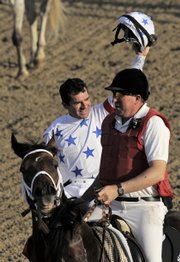 Baltimore — Mortal horses do not run like undefeated Preakness winner Big Brown flies.
He lifts off. No - he blasts off.
The overhead video from the blimp on NBC-TV will become a classic for the shock-and-awe effect of Big Brown sprinting off from the field to win the Preakness by 51â4 lengths.
"I just let him go - bye-bye," said jockey Kent Desormeaux, describing the rocket launch in the homestretch at Pimlico here Saturday when Big Brown won for owners IEAH Stables and Paul Pompa Jr.
Macho Again and Icabad Crane came in second and third, only half a length separating those two, with Racecar Rhapsody finishing three-quarters of a length farther behind them in the field of 12.
The other nuts-and-bolts details from the race were the final time of 1:54.80 and Big Brown's $2.40 win mutuel as 1-5 favorite. The crowd of 112,222 and $73,457,510 in betting were the fifth-highest ever at Pimlico.
People aren't talking nuts-and-bolts about Big Brown, however. They're speaking in superlatives. This son of Boundary, whose stud deal announced Saturday will send him eventually to Three Chimneys Farm, does things the average horse could never do.
The only thing Big Brown has not experienced in his five-race career is a worthy foe. That's because no horse can get close to him when Desormeaux tells him it's time to go. Desormeaux pushes a button, and Big Brown is gone.
Many believe he will encounter a worthy challenger June 7 in the third Triple Crown race, the Belmont Stakes, when Casino Drive races against him.
Casino Drive shipped from Japan specifically to run in the Belmont. He prepped by winning the Peter Pan Stakes a week ago.
Message to Casino Drive: bring it on, baby.
"All those Japanese people are going to come here thinking Godzilla is dead," remarked Big Brown's trainer, Rick Dutrow. "They're going to find out he is not dead."
Meantime, the Big Brown machine just keeps rolling past everything that gets close.
"I've been blessed with this freak of a horse," remarked Desormeaux, who has been experiencing a resurgence of his own jockey career.
Copyright 2018 The Lawrence Journal-World. All rights reserved. This material may not be published, broadcast, rewritten or redistributed. We strive to uphold our values for every story published.