Photo Gallery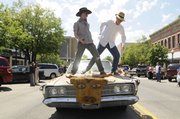 Art Tougeau 2008
"If it rides ... bring it on."
That was the slogan of the 11th annual Art Tougeau Wheeled Art Parade, which showcased an array of wacky, weird and innovative vehicles Saturday afternoon in downtown Lawrence.
A loosely organized grass-roots network of art enthusiasts display their art cars across the country, and Lawrence's event drew artists from as far as Wisconsin and Minnesota.
The parade is "uniquely Lawrence," said Randy Carlson, a board member of the Art Tougeau Parade. His wife, Amy, was serving up a giant red velvet cake in the back of a pickup truck, which propped the head of Marie Antoinette on its hood. It was dubbed "Let Them Eat Cake."
Carlson said more than 25 cars were in the parade, and there were many more bicycles, skateboards, roller skaters and even wheelchairs that made their way down New Hampshire and Massachusetts streets, between Seventh and 11th streets. The parade raised money for Art Tougeau. Participants paid $15 to join in the parade.
Carlson, speaking in front of van covered in 50,000 pennies, summed up the motivation of artists who transform their cars into canvas, saying, "I think it's just people's creativity. They have things that mean something to them, stuff they think is wacky."
The wacky included a flying saucer, which did circles through the streets, and a sedan covered in tires, which were sliced apart and pieced together, making the car resemble a stegosaurus. A moonscape-painted hearse with a prone alien on the roof was dubbed the "Ambulance of the Future," and a rock band played from the bed of a pickup truck.
Madison, Wisc., resident Jason Vincetti, 32, brought his 1993 Geo Metro, which he named Claire. He said he began covering the car with everything from beads to bottlecaps and doll heads about a decade ago.
The car, he said, "is a really boring little car. I kind of wanted to jazz it up a bit."
"It's hard work, but it's worth it. It makes people smile," he said, adding that he gets lots of gawking and thumbs-up from fellow commuters in Madison.
Claire is for sale, by the way.
Ian Patterson, 14, and Isaac Rinke, 13, sported a Union Jack vest and tie respectively, part of a British theme for their wheeled art. They displayed a large tea cup, sitting atop a wagon, with the flags of England and Great Britain poking out the sides. Ian and his mother participated in the parade last year.
"It was so much fun, I convinced her to do it this year," said the Central Junior High student. "It's really cool seeing all the cars."
Mike Banks, who lives in Joplin, Mo., was killing time while his wife attended a quilting event. The 1968 Kansas University graduate said he hadn't spent any significant time in Lawrence since he graduated 40 years ago. He sat on Massachusetts Street with his dog, Tucker, and said the parade was "well done and long and entertaining. It was exactly what a parade should be. A celebration of silliness."
Copyright 2018 The Lawrence Journal-World. All rights reserved. This material may not be published, broadcast, rewritten or redistributed. We strive to uphold our values for every story published.