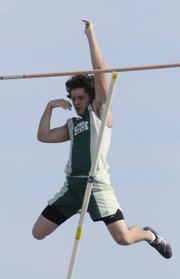 Olathe — Several Lawrence high school track and field athletes can start packing their bags for Wichita.
Together, Free State and Lawrence high schools will send 18 athletes individually and seven relay teams to state competition.
Among those making the trip are Lawrence High seniors - and twin sisters - Jennifer and Kristina Taylor. Their latest regional success qualifies them for state for the fourth year in a row.
"The twins had a great meet," Lawrence High coach Jack Hood said. "... When you talk to her (Kristina), she's the sweetest kid in the world, but on the track she's an assassin."
No matter who's running, both sisters think their vast experience could help them in Wichita.
"Our experience competing for our fourth year at state kind of gives us an advantage because we know what the atmosphere is like," Jennifer said.
The 4X800-meter relay team of Shelby Clark, Jordan Herd, Ally Koppes and Alexis Scheibler will join the Taylors after winning their event at regionals.
In the field events, Bridget Wenger took third place in the javelin for the Lions with a toss of 105 feet.
The Lawrence High boys excelled in field events as well, qualifying two people in the shot put, two in the javelin and one in the discus.
Chebon Dawes qualified in the shot put and the discus, winning the discus with a throw of 153-feet, 1-inch.
"It's pretty amazing," Dawes said. "It's an individual goal for me. It's my first time so I don't know what to expect, but I can't really do anything about that."
Distance runner Dylan Hedges also qualified in two events. He finished third in the 3,200 run and the 1,600. Roy Wedge placed right behind him in the 1,600 in 4:36.47.
On the Free State side, pole vaulters Tim Malcolm and Zach Mehl punched their tickets early in the meet, giving them a chance to relax.
"It kind of relieves the pressure when I know that I've already kind of beat the competition," Malcolm said. "So, I can just vault and do my thing and not really think about it."
Malcolm's teammate Shaun James earned a spot at state in one event as well, but was close to qualifying in another. James took third in the 200 and fifth in the 400, missing the last qualifying spot by less than half a second.
The top four finishers in each event qualified for state.
On the girls' side, Kyra Kilwein managed to move on in two events. Kilwein was third in both 3,200 and the 1,600, sending her on her third trip to state.
"It's so much fun," Kilwein said. "There are so many people to compete with, and it's the best. They push you out of your limits, which is really fun."
Kilwein is one of Free State's best chances at a state medal, coach Steve Heffernan said.
She and the rest of Lawrence's state qualifiers get their chance next weekend in Wichita.
Copyright 2018 The Lawrence Journal-World. All rights reserved. This material may not be published, broadcast, rewritten or redistributed. We strive to uphold our values for every story published.