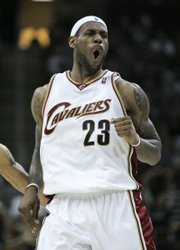 Cleveland — The Boston Celtics are going home for another Game 7.
They handled the Atlanta Hawks.
LeBron James may not be as easy.
James scored 32 points - 19 in the second half - and the Cavaliers forced a decisive and fitting finale to this home-sweet-home playoff series with a 74-69 victory Friday night over the Celtics, who have gone from regular-season road kings to postseason road kill.
"It was either win or go home," James said. "I'm not ready to go home."
The Cavs packed for a weekend stay in Beantown - not a few weeks relaxing on Cape Cod. They've got at least one more game left, and in the NBA, it's as big as they ever get.
Game 7. On Sunday. In Boston.
James, whose jump shot mysteriously has been missing in this series, made two key baskets midway through the fourth quarter to slow a Boston comeback, Wally Szczerbiak hit a three-pointer with 2:10 remaining, and Joe Smith dropped two free throws with 14 seconds left as the Cavs moved the series back to the East Coast.
The Cavs are attempting to become the 14th team to overcome an 0-2 deficit and win a series, and to do so, the defending Eastern Conference champions will have to win in Boston, where the Celtics are 7-0 in the postseason and play like a possessed team with title potential.
On the road, they're 0-6 and just ordinary.
Still, the Celtics feel good about going home.
"Mentally we feel like we're a confident team," Paul Pierce said. "We've been in Game 7s before, and we feel like this is a game we let slip away. Hopefully, we can go home and take care of business."
Copyright 2018 The Associated Press. All rights reserved. This material may not be published, broadcast, rewritten or redistributed. We strive to uphold our values for every story published.