On the street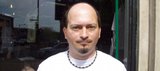 I agree with it. It was an idiotic law to make in the first place. It is the land of the free except for you, and you, and you? We shouldn't be afraid of our differences. They make us stronger.
San Francisco — California's Supreme Court declared that gay couples in the nation's biggest state can marry - a monumental but perhaps short-lived victory for the gay rights movement Thursday that was greeted with tears, hugs, kisses and at least one instant proposal of matrimony.
Same-sex couples could tie the knot in as little as a month. But the window could close soon after - religious and social conservatives are pressing to put a constitutional amendment on the ballot in November that would undo the Supreme Court ruling and ban gay marriage.
"Essentially, this boils down to love. We love each other. We now have equal rights under the law," declared a jubilant Robin Tyler, a plaintiff in the case along with her partner. She added: "We're going to get married. No Tupperware, please."
A crowd of people raised their fists in triumph inside City Hall, and people wrapped themselves in the rainbow-colored gay-pride flag outside the courthouse. In the Castro, long the center of the gay community in San Francisco, Tim Oviatt wept as he watched the news on TV.
"I've been waiting for this all my life. This is a life-affirming moment," he said.
By the afternoon, gay and lesbian couples had already started lining up at San Francisco City Hall to make appointments to get marriage licenses. In West Hollywood, supporters planned to serve "wedding cake" at an evening celebration.
James Dobson - chairman of the conservative Christian group Focus on the Family, which has spent thousands of dollars to get the measure on the ballot - called the ruling an outrage.
"It will be up to the people of California to preserve traditional marriage by passing a constitutional amendment. ... Only then can they protect themselves from this latest example of judicial tyranny," he said in an e-mailed statement.
In its 4-3 ruling, the Republican-dominated high court struck down state laws against same-sex marriage and said domestic partnerships that provide many of the rights and benefits of matrimony are not enough.
"In contrast to earlier times, our state now recognizes that an individual's capacity to establish a loving and long-term committed relationship with another person and responsibly to care for and raise children does not depend upon the individual's sexual orientation," Chief Justice Ronald George wrote for the majority in ringing language that delighted gay rights activists.
Massachusetts in 2004 became the first, and so far only, state to legalize gay marriage; more than 9,500 couples have taken advantage of the law. But the California ruling is considered monumental by virtue of the state's size - 38 million out of a U.S. population of 302 million - and its historical role as the vanguard of many social and cultural changes that have swept the country since World War II.
California has an estimated 108,734 same-sex households, according to 2006 census figures.
Gov. Arnold Schwarzenegger, a Republican who has twice vetoed legislation that would have granted marriage to same-sex couples, said in a statement that he respected the court's decision and "will not support an amendment to the constitution that would overturn this state Supreme Court ruling."
Copyright 2018 The Associated Press. All rights reserved. This material may not be published, broadcast, rewritten or redistributed. We strive to uphold our values for every story published.