Photo Gallery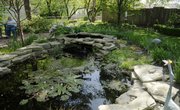 Garden Spot
In the heart of Lawrence sits an unassuming little ranch house. Nestled on the crest of the hill that also is home to Hillcrest School and other similar 1950s-style houses it rests, tucked behind and under enormous pin oaks.
The paint on the home is beginning to peel and fade from the wind and rains. The home has been here for a spell, but in that time a lovely, robust garden has emerged at its feet, a site with fantastic textural interest created by plants and stone work. The limbs on the pin oaks above are contorted and sprawling, absolutely begging to be climbed, all adding to the allure of this outdoor spot. All is quiet and peaceful in this little shade garden, for now.
And then like a light switch turning a joyful spotlight onto this sleepy little neighborhood, it happens. The children at Hillcrest come bounding outdoors for recess, gleefully bouncing from one primary-colored piece of equipment to another, hanging from tree limbs, yelling, laughing, skipping and running. It seems like the dozens of petite neighbors to this garden give it as much life as the plants and creatures that call it home.
Carolyn Thomson, who has lived here since 1967, doesn't really notice the noises of the kids anymore. Nikky, the Pomeranian who shares the garden with Carolyn, is quite excited to give me the tour of where she stalks fish at the edge of the pond or chases the stray cat that comes to visit. It is a perfect-sized yard for the two of them, small and easy to handle.
"I thought about moving when I retired in 1991, but after looking around I thought, 'Gosh this is one-story living, large trees. Why move?'" Carolyn says. "Instead of traveling a lot, I wanted to enjoy retirement by looking out of my windows and becoming inspired."
A friend who's an architect helped her lay out the lawn line with a hose and began to shape the space. Then she acquired the services of a landscaper, who delivered a stack of books full of design ideas. Then the humble beginnings to this garden began to take shape.
The focal point of this woodland shade garden is the pond. It is large for the size of the yard, with a waterfall and a bubbler to create wonderful sounds.
"The sounds of the pond are lovely. It is a serene, peaceful sound when I open the windows - it is the outdoors in," Carolyn says.
Heron sculptures keep watch over the active waters - a rubber goldfish hangs out of one's beak, the orange rubber glowing in a beam of sunlight. The aquatic feature is surrounded by some gorgeous plants like a tree peony with purple blooms, daffodils, Creeping Jenny, Columbine, coral bells and lilies.
When gardeners fashion a water feature, that generally draws a variety of interesting animals, amphibians, birds and insects. Carolyn definitely has seen her share.
"I've spent many hours watching that pond," she recalls. "I spent lunch one day with a dragonfly who was on the tip of a lotus bloom for the entire meal. There are fish, of course. Plus I've had frogs, an American toad that comes every spring and mates, lays eggs, and then there are thousands of tadpoles in the pond."
The plants and flowers have given her equal satisfaction as well.
"I've really enjoyed raising the large chrysanthemums, and I've had some great crops of those, and they bloom when nothing much else is going on," she says. "I've also developed an affinity for certain flowers - daffodils, for instance - and many of the small bulbs. While it seems like a thousand is a lot, they don't go as far as you think. I love ferns, and I'm trying to get a solid stand of them.
"When you have a little bit of help as I do, the garden is great for my stage of life."
As summer approaches and Thomson finds herself eating meals outdoors among the Canadian ginger, hostas, boxwoods and river birch, her feelings of satisfaction surface.
"I feel contented, thinking what a wonderful world we live in," she says. "This is just a little patch of earth with seemingly loads of potential, if you make the time to cultivate it."
Copyright 2018 The Lawrence Journal-World. All rights reserved. This material may not be published, broadcast, rewritten or redistributed. We strive to uphold our values for every story published.