On the street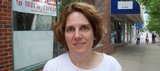 I think it would be a lot of fun. I'm a little worried about the noise because I work downtown. But as long as it's well-organized, I think it sounds like a good idea.
You thought the mid-August weekend when Kansas University students returned to Lawrence was crazy enough.
Just imagine what it will be like when you add fire-eaters.
It looks like there will be no need to imagine. Leaders of Downtown Lawrence Inc. and a Lawrence-based entertainment company are teaming up to host a unique street performers festival downtown as students begin moving back into residence halls Aug. 16 and 17.
"This is definitely going to add to the character of downtown," said Richard Renner, of Lawrence-based Vodvill Entertainment Co. "It energizes areas. People love to be surprised."
Renner's company - which books shows for about 300 performers ranging from "trained pig acts" to escape artists - received city support Tuesday to organize Busker Fest 2008. The festival - named after a British term for street performers - received a $1,000 grant from the Lawrence Arts Commission.
No trained pigs are expected to be downtown, but Renner is working to attract about a dozen professional street performers from places such as San Francisco, Boulder, Colo., and other hot spots of street performing.
That means Massachusetts Street may end up looking like a surreal dream, or at least one of those humdingers you have after eating chili too close to bedtime. On one corner may be a man on stilts, on another a man struggling to escape from a straitjacket, and yes, someone almost certainly will be playing with fire.
"There are two rules in street performing: height and fire," Renner said. "If you can get up real high and set something on fire at the same time, you are fantastic."
But before you start calling your insurance agent to add extra coverage, organizers promise that the performers will be professionals. Jane Pennington, director of Downtown Lawrence Inc., said the performers will be several cuts above the variety of street musicians that frequently can be found downtown.
Pennington said her group was excited about the event - which also will feature more traditional musicians - because it will add to Lawrence's reputation as a city committed to the arts. It also adds to downtown's reputation of being one-of-a-kind, Pennington said.
"We thought it was a good opportunity to get people downtown and show them what a unique place we have," Pennington said.
Busker festivals are common overseas and in Canada, Renner said, but are nearly unheard of in the Midwest. Renner said he's optimistic that the festival will receive a $2,000 grant from the Kansas Arts Commission in addition to the $1,000 Lawrence Arts Commission grant. He said the event - which also is receiving help from the Lawrence Arts Center - is seeking corporate sponsorship to help pay travel costs for performers.
An exact schedule for the festival is still being developed, but Renner said the festival likely would start with morning performances at the Downtown Lawrence Farmers' Market and continue into the evening on that Saturday and Sunday. There will be no admission to the festival, but performers will be accepting tips.
Copyright 2018 The Lawrence Journal-World. All rights reserved. This material may not be published, broadcast, rewritten or redistributed. We strive to uphold our values for every story published.