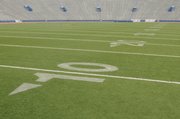 -->
Athletic Facility Plans
NOWThe Lawrence school district currently rents Haskell Stadium per game to play both Lawrence High and Free State football games.¢ Cost: This fall, Haskell will charge $5,000 per football game, an increase of $2,000 from last year.
SOONA financing tool could help pay for artificial turf fields with bleachers at each high school this fall, bundled with other projects.¢ Cost: Estimated $2.8 million to upgrade the fields and about $10.9 million for other athletic projects.
FUTUREThe district might plan ahead for an athletic and wellness complex. Talks have begun with members of Bill Self's Assists Foundation.¢ Cost: No firm plan is in place, but a past estimate is $21 million without land.
Both sides say it's a chance to meet two major needs - more athletic venues in Lawrence and a campus to promote child wellness.
Kansas University basketball coach Bill Self's Assists Foundation and the Lawrence school district have had early talks about developing a sports complex.
"I think his desire is to make it happen in Lawrence, and I think because of the school district's interest in the facilities that they need, this could be a win-win for the kids particularly, but for the foundation and for the city of Lawrence," said Miles Schnaer, owner of Crown Automotive and a member of Self's Assists Foundation board.
But foundation members and school district leaders acknowledge they have a long way to go. No dollar figures have been thrown out, but past studies estimated $18 million to $21 million for a complex with stadiums and fields for several sports.
Leaders from both organizations say the district and foundation complement each other.
"The school district is by far the most viable player based on our conversations, and they can make this happen sooner than anybody else and they have the need to make it happen faster than anybody else," said Laura Dixon, the Assists Foundation's executive director.
Schnaer said Tuesday the foundation aims to raise $1 million through a fundraising event in June. School board members have asked administrators to explore what other private and public partnerships would be interested.
"That's really the quickest way to get big-picture, high-profile projects done," said Lawrence Superintendent Randy Weseman.
School district leaders are working on a short-term plan to improve outdoor sports fields at both high schools and elementary school buildings. To make a dent in that $20 million list of requests, instead of a bond issue or tax increase, the district would rely on a financing tool that rewards using energy-efficient material, such as artificial turf, and also not paying rent and transportation costs to use Haskell Stadium and other fields.
On top of those projects, the next step of Weseman's plan involves working toward building a district facility over time.
Foundation members said Self in the meantime could help move fundraising along in the long term for a wellness and athletic complex.
"Our vision would be that kids all over our community, all over town have access to these types of facilities year-round, and at the heart of these facilities are the wellness components that have the long-term impacts on their lives," Self said in a statement through the foundation.
More specifics about what the complex could include and where it would be will be determined later, Weseman said. Other area communities have capitalized on private partnerships to develop athletic complexes, he said.
Weseman told board members Monday to envision "a system planned and designed to get you moving and keep you healthy as well as provide a quality competition and special-event venue for the school district and community."
Board member Rich Minder said he had heard concerns before that a district complex would only benefit athletes and their parents.
"This doesn't sound like the vision that would lead to that, but more one of community-wide wellness. : I can support moving forward with exploring those options in that context," Minder said.
Assists Fundraiser
Kansas University basketball coach Bill Self will play host to the inaugural Bill's Basketball Boogie fundraiser June 7 at the Kansas Speedway - near Interstates 435 and 70 in Kansas City, Kan. - to raise money for health and wellness facilities in the area.
More information and ticket order forms are available at www.basketballboogie.org.
Who is involved?
Randy Weseman, Superintendent Lawrence schoolsHe and administrators have developed a three-phase plan to retire projects and work toward a district complex.
Scott Morgan, Lawrence school board memberHe has asked administrators to see what kinds of private and public partnerships would be available for a district complex.
Bill Self, Kansas University basketball coachSelf and his family have started the Assists Foundation to raise money for athletic-oriented health and wellness facilities.
Miles Schnaer, Assists Foundation boardThe Crown Automotive owner has said the foundation hopes to raise $1 million at an event in June.
Copyright 2018 The Lawrence Journal-World. All rights reserved. This material may not be published, broadcast, rewritten or redistributed. We strive to uphold our values for every story published.