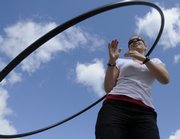 Tracy Williams says in her new job, sometimes people are afraid to eat in front of her.
"I say, 'Hey, I like to have a piece of chocolate every now and again, too, but in moderation,'" said the Lawrence school district's new wellness coordinator.
Williams says in her new part-time position she has a passion for coordinating health and wellness initiatives for other school district employees.
Williams, who has two degrees from Kansas University and coaches the KU women's rugby team, also has her own story. She lost 60 pounds through Weight Watchers more than four years ago.
"I'm not perfect, and I definitely had struggles, and I still struggle," she said.
Based on her own experience, she hopes to connect with teachers and other staff members at helping them develop plans for nutrition, fitness, and stress and health management.
Teachers and the district agreed to switch health insurance providers to CIGNA beginning this school year. The company also offered the district $75,000 for three years to be spent on employee health and wellness initiatives.
The school board approved the part-time position of wellness coordinator at a salary not to exceed $30,000.
Williams was hired in March. She says she knows teachers have stressful jobs, which sometimes might keep them from exercising or following proper nutrition.
"However, if we get folks to engage in these things, we're preventing disease, but also it helps reduce stress, so it would increase work productivity and increase job satisfaction," Williams said.
Williams is also a clinical social worker and has worked as a counselor at Baker University. The aim of the wellness initiative for employees is to make them healthier in an effort to reduce health insurance costs.
Valerie Johnson-Powell, who was a co-chairwoman of the fringe benefits committee, said one incentive for the switch was funding from CIGNA. Committee members believed they needed a part-time staffer to help coordinate the program.
"I think there are so many things that we have the potential to do with all of the community access we have here to awesome wellness programs," said Johnson-Powell, a speech therapist at Sunset Hill and Lawrence High schools.
Administrators say they will be interested in tracking data from this initiative, including whether it reduces employee absences and health insurance claims.
"If it's successful, which hopefully it is, we'll have to make a decision about what our next steps are," said Bob Arevalo, the district's human resources director for classified staff.
Williams is trying to settle into her new role and plan events during the summer and beginning next school year. She also is working on plans to get staff members to fill out a "health risk assessment," a questionnaire about their daily habits to help her determine what kind of events to plan.
She also hopes to work with schools to continue and further develop their wellness efforts for staff members.
"We can definitely set goals for ourselves," she said.
Copyright 2018 The Lawrence Journal-World. All rights reserved. This material may not be published, broadcast, rewritten or redistributed. We strive to uphold our values for every story published.