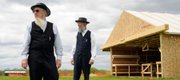 For over 100 years, the Old German Baptists' have taken a stand against religious innovation.
Audio Slideshow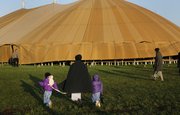 Old German Baptist Young Folks
While different congregations of the Old German Baptist Brethren meet to discuss the future of the church, down the road the youth socialize, pray and gather for fellowship. Early Sunday morning the youth joined the rest of the church for a prayer service.
The brand new basketball court and rows of volleyball nets seemed out of place next to the men in plain shirts, broad fall pants and wide-brimmed black hats.
They were raising a green and yellow tent, a replacement for the one that was blown away by heavy winds Saturday night, in preparation for youth gathering at the annual Old German Baptist Brethren Conference, which has drawn thousands of Old German Baptists to the Lawrence area.
As rows and rows of vehicles park in a field in unincorporated Pleasant Grove, passersby notice the variety of license plates: Virginia, Wisconsin, Pennsylvania, Indiana, and many from Ohio. And a peek in the windows will show that many of the vehicles have no radio.
Yet, in the fields adjacent to the home of Darren and Jenny Flory, there are loudspeakers and lights and even a giant inflatable castle.
The sometimes uncomfortable mix of modernity and tradition is something the brethren has confronted since its founding 300 years ago. It has slowly adopted automobiles, mechanized farm equipment and even cell phones. And even though the brethren accepts modern innovation more than the Amish, with which its members are often confused, young people in the church grow up in an environment that offers many temptations and few solutions.
It's a religion that preaches self-denial and modesty. The path to righteousness is paved with piety.
But the hook shots and lay-ups taking place a few hundred yards from a prayer tent offer a glance into the normal lives of the brethren's youth.
"We try to shepherd them in a way where they will be sheep," said Arlen Wolf, a minister from Quinter, a small town near the Colorado border. "A shepherd doesn't push his sheep. He leads them."
Wolf knows that kids will be kids, whether they are at home in Quinter or close to the temptations of Lawrence. The activities on the Flory property, he said, offer "good, wholesome fun." The German Baptist faith relies on conformity, and the world today offers many distractions that could prove detrimental to the faith in the long run.
"If conformity is not there, that is not healthy for the group," Wolf said. "We want them to stay in ... . You have to have some sort of like thinking."
'Stress cracks' in religion
The fact is, Wolf and others admit, the world is encroaching on the German Baptist faith. During a prayer session late Sunday afternoon, a speaker from a church in Ohio discussed the church's worries about stability, saying there are "stress cracks" in the group's foundation. He told the many young people sitting on wooden-plank benches that they live in a challenging time.
But for Silas Clark, a 21-year-old from a rural area near Baldwin City, the argument that technology or modernity is corrupting German Baptist youth is an old one.
Take television, for example.
"You grow up without it. You're used to it," he said.
A nearby friend chimed in, likening their childhood to any other: "It's like growing up with a TV."
Except that for young GBs, as they call themselves, they can't flip on the latest reality show or football game. Nor do they surf the Internet, where they might stumble across one of the many sordid pockets of the Web. And many of them don't even keep radios in their cars, despite their acceptance and reliance on automobiles.
"What it boils down to is what you believe," said Silas' brother Aaron, 19.
The faith, Wolf says, is one that involves individual choices, balancing the inevitable curiosities of life with the responsibilities of leading a pious existence.
Wolf, whose long salt-and-pepper beard and plain dress distinguishes him as a baptized member of the church, said many youth stray from the German Baptist path, as young people are apt to do.
But, "when you choose this life, you choose self-denial," he said.
The Clarks, and Silas' fiancee, Holly Flory, 21, are not baptized in the church. They practice the religion, but as Silas explained, baptism in the church comes when the individual is ready to lead a life completely devoted to the church. That also means they are not beholden to the dress code that baptized German Baptists are; Flory was wearing a skirt and a Kansas University T-shirt.
"We haven't committed our lives to the church," said Silas, clad in a short-sleeve flannel shirt and sporting the chinstrap beard synonymous with German Baptists. "It's something I want some day, but I'm not (ready for the) responsibility."
Modern challenges
Young GBs are like any group of youth. They are tempted by the same things most young people are, such as alcohol and the opposite sex. The German Baptist society, as Wolf explained, seeks not to deny exposure to life's temptations, though it discourages it in favor of the modest, pious lifestyle the group has practiced since 1708.
"If you think you want to do it, you're going to do it," Silas said. "That's between you and your maker."
The Internet is "a very major issue" in the church, Wolf said. "We're struggling with the Internet. How would we use it and still not lose our faith?"
While some young German Baptists, such as Silas, who went to technical school in Topeka, are home-schooled, many go to public schools, where they mingle with peers who are not part of the church and have access to the Internet.
"People are going to test the waters," said Flory, a Lawrence High graduate.
But only a small percentage of youth stray far from the church, Silas said.
"It's not black and white. We try to do as good as we can to have a good life so people will see we are different and we are trying to do better than the secular world."
As young people from across the country gather in Pleasant Grove, it's clear that many have yet to fully commit themselves to the German Baptist faith. Designer jeans and sunglasses, T-shirts and even a souped-up sports car with glittering rims were seen next to the subdued dress of the baptized. But when the youth were called upon to join in singing "Amazing Grace" Sunday afternoon, the hundreds gathered beneath the prayer tent stood simultaneously. The young people in untucked T-shirts, boys with spiked hair and girls in jean skirts sang alongside those in traditional dress, perhaps signaling their commitment to the church's future.
"Ultimately, you're responsible for what you do," Silas said. "And if you choose to do it, it's between you and God. As a whole, everyone behaves themselves well, especially here."
Copyright 2018 The Lawrence Journal-World. All rights reserved. This material may not be published, broadcast, rewritten or redistributed. We strive to uphold our values for every story published.