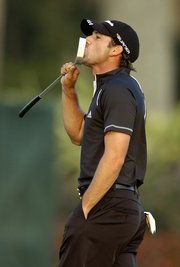 Ponte Vedra Beach, Fla. — Sergio Garcia, the best player without a major, got the next best thing Sunday.
Garcia ended the longest victory drought of his career by making a clutch par putt to force a playoff and hitting the island-green 17th on the first extra hole to defeat Paul Goydos in The Players Championship.
"It's been a lot of work," Garcia said, clutching the crystal trophy. "It feels like the last three years I've been playing well. Unfortunately, I haven't been able to come around and win. This week, I played so nicely. It felt like everything was so hard. I'm just thrilled the week is over and I managed to finish on top."
Haunted by putting problems that kept him without a victory the past three years and 53 PGA Tour events, Garcia came up with a 45-foot birdie on the 14th to get back in the game and a seven-foot par putt on the 18th hole for a 1-under 71.
Goydos, playing in the final group, missed a 15-foot par putt on the last hole for the victory. He closed with a 74.
It was the first playoff at The Players since 1987 and the first time the PGA Tour opted to start it on the most notorious par 3 in golf. The shot was only 128 yards, but against wind that blasted 30 mph throughout the day, to a green surrounded by water.
What a bad coincidence for Goydos - he was the first to hit into the water when the tournament began Thursday and the last player to go into the water at the worst time. His wedge came up short, and when Goydos saw the splash, he looked to the sky.
Garcia still faced the pressure of finding land, and his wedge hit the middle of the green and rolled to four feet. He missed the birdie putt, the one time it didn't matter. He could have taken three putts from there and still won.
Goydos wound up making double bogey, the end of a dream week in which his dry humor and honest perspective finally had an audience.
"Look at the shot Sergio hit in the playoff," Goydos said. "I got beat. I played good golf. That doesn't mean you win. There's no defense. I can't tackle the little guy. There's no knee-capping. You have to accept the guy beat me."
Garcia and Goydos finished at 5-under 283.
The 28-year-old Spaniard, whose seven PGA Tour victories are the most by players under age 30, earned $1.71 million from the richest purse in golf.
Copyright 2018 The Lawrence Journal-World. All rights reserved. This material may not be published, broadcast, rewritten or redistributed. We strive to uphold our values for every story published.