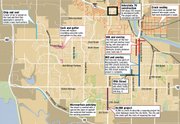 There will be all the normal sounds of road construction in Lawrence this summer - the rumbles of road graders, the rat-tat-tat of jackhammers and the rough talk of men in hard hats.
But this construction season, one sound may drown out all the rest.
Tick-tock, tick-tock, tick-tock.
Like most summers, Lawrence motorists this season will be asked to take maze-like paths to get from point A to point B as construction crews rebuild, repave and restore. But this year, the stakes are higher than normal to get the work done on time with projects downtown and at Kansas University.
But nowhere are the stakes higher than at 19th and Louisiana streets, which is shaping up to be the crown jewel of construction hassles this summer. Crews completely will shut down 19th Street from Ohio to Alabama streets beginning May 23, with work lasting through the summer.
Chuck Soules, director of public works for the city, knows that the project can't afford to be even a day late. In addition to being one of the city's key east-west roads, the intersection is immediately adjacent to Lawrence High School.
"That project has to get done when school opens up, or I'll be looking for another job, I'm sure," Soules said. "If it is not done, kids won't be getting to school, and it also is a main access to KU."
Lawrence-based LRM Industries has until Aug. 4 to reopen the road until monetary penalties start kicking in.
"Oh, I thought we had until September," said Steve Glass, president of LRM.
No, he's just kidding. He's well aware of the Aug. 4 date and is confident that the project will get done on time. His confidence could be shaken, though, if the summer features large amounts of rain or his crews find unexpected messes that lurk beneath the ground.
"Anytime you are working in an old part of town, there are always surprises when you start digging holes in the ground," Glass said. "Hopefully there aren't any really bad surprises."
Soules doesn't want to hear about any surprises. He's already begun repeating the mantra that will follow the project all summer.
"There is no choice but to get this done on time," Soules said.
The project also will leave motorists with no choice but to find a detour for one of the city's busier east-west routes. Soules said most motorists will need to rely on 23rd Street. Yes, that will be fun.
But the extra traffic on 23rd Street also means additional traffic on Massachusetts Street south of 19th Street and on Naismith Drive south of 19th Street, which are the two main roads leading to 23rd Street.
Soules, though, thinks the project will be worth it. The $1.2 million project will include widening the intersection to include new left-turn lanes, a new bus turnout lane on Louisiana Street, and a new traffic signal that will include video equipment to detect when traffic starts to back up. The project also will include a center turn lane on 19th Street that will run approximately the length of the LHS property, meaning cars turning into the high school will no longer back up traffic.
The Kansas Department of Transportation will pay for $294,000 of the project, with the school district paying $92,000 for the bus turnout lane. The city will pay for the rest of the project.
Copyright 2018 The Lawrence Journal-World. All rights reserved. This material may not be published, broadcast, rewritten or redistributed. We strive to uphold our values for every story published.