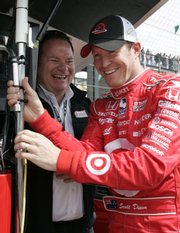 Indianapolis — Strategy was almost as important as speed Saturday as Scott Dixon won the pole for the Indianapolis 500 with a big gamble by his Target Chip Ganassi Racing team.
Dixon and teammate Dan Wheldon, who took the second spot, both took advantage of Indy's unique qualifying format, which allows each entry up to three tries on each of the four days of time trials.
Dixon, who has three pole positions in five tries in the IRL IndyCar Series this season, got the biggest benefit of the team strategy, canceling out a four-lap average of 225.178 mph earlier in the day and making it pay off with four laps at 226.366 that held up for Ganassi's third Indy pole.
"I was part of that decision, so it wasn't really a surprise," Dixon said. "We had been out testing, so we were confident we could go much faster. The tough part came later in the day, knowing whether or not we should do a third attempt (if we got knocked off the pole).
"One thing that was great out there, even on an average lap for us, we still had the field covered as a team. That just goes to show how strong we are this year."
The New Zealander's pole run came with just over two hours left in the session and only moments after Ryan Briscoe, the first driver to qualify Saturday, made his own gamble in an effort to give team owner Roger Penske a record 15th Indy pole. The team withdrew his earlier speed of 224.833 and Briscoe, who wound up third, put his Team Penske entry on top briefly with a run of 226.080.
Wheldon's earlier speed of 225.840, which had held the pole briefly, was then withdraw by his team with about 20 minutes left. The Englishman, the 2005 Indy winner, responded with a run that came up just short of his teammate at 226.110.
Danica Patrick, just two weeks past making history as the first woman to win an IndyCar race, set the early pace, knocking Briscoe off the top spot with a four-lap run averaging 225.197 mph on the famed 2.5-mile Indianapolis Motor Speedway oval.
But Wheldon spoiled her storybook moment Saturday when he came out about 20 minutes later and pushed Patrick to the middle of the tentative front row.
Eleven more spots will be decided today, with the final 11 positions to be determined in qualifying next Saturday. After that comes "Bump Day" next Sunday, the last chance for drivers to knock the slowest qualifiers out of the field.
Copyright 2018 The Lawrence Journal-World. All rights reserved. This material may not be published, broadcast, rewritten or redistributed. We strive to uphold our values for every story published.