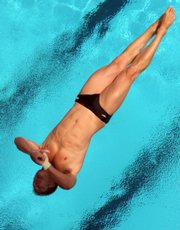 Miami — Jevon Tarantino used to lead a double life. He was a diver and a basketball player. He was either in the gym leaping toward the basket, or at the pool leaping toward the sky, defying gravity in both sports.
Tarantino gave up basketball after high school because, at 5-8, "I am just too damn short," he said.
He stuck with diving, earned a scholarship to Tennessee and narrowly missed making the 2004 U.S. Olympic team. But he missed the team aspect of basketball, the sense of cooperation, cohesion and chemistry.
And then he discovered synchronized diving and found his diving soul mate. Today, Tarantino and partner Chris Colwill are among the best 3-meter springboard synchro teams in the world. At this week's AT&T; USA Diving Grand Prix meet in Fort Lauderdale, they tested their ability to jump, spin, twist and slice into the water in unison.
With three months to go until the Aug. 8 opening of the Beijing Olympics, the meet Thursday through today at the International Swimming Hall of Fame pool is a preview for fans and an opportunity for divers from 26 countries - including powerhouse China - to gauge their progress. For the Americans, it's an important tune-up for June's pressure-packed Olympic Trials.
Next month in Indianapolis, in the ideal scenario, he and Colwill would finish 1-2 in the 3-meter springboard, thus strengthening their chances of being picked as the U.S. synchro team at a selection camp following the trials.
"The Grand Prix is the first step toward what could be the summer of a lifetime," Tarantino said after a recent practice as the late afternoon sun glinted off his copper hair and skin. "The quality of competition at this meet is always outstanding. I remember coming to watch as a kid and seeing Dmitry Sautin of Russia hit his big dives. I wanted to be like that."
Tarantino's motto these days is IDM, which means I Don't Miss. He got it from Burgering, who got it from his former coach, Ron O'Brien, 30 years ago.
"The point is to be consistent, keep my mind focused through all six dives and don't let it wander," Tarantino said.
Tarantino, a four-time national champion, was in first place at the spring national meet until his final dive, a gainer with 31â2 somersaults. He finished third.
"I was in the lead, and I'm not always in that position, so I got ahead of myself and missed my best dive," he said. "On the other hand, it gave me a lot of confidence. With the right concentration, I would have won."
Burgering said Tarantino and Colwill, the 2007 and 2008 spring national champions, perform two of the most difficult dives in the sport - a reverse with 21â2 somersaults and 11â2 twists, and a reverse with 31â2 somersaults.
"Jevon's physical strength is his strength, and the same with Chris," Burgering said. "He used to lift weights, but he got too big to dive. For a guy who is not tall, he is able to jump unusually high."
Tarantino finished fifth at the 2004 Olympic Trials. This year, he is hoping to supplant Troy Dumais, the longtime leader for the U.S. in 3-meter. Of course, he'll also be competing against his partner, Colwill.
"He's my friend, but when it's time to compete individually, we compete, and when it's time for synchro, we're a team," Tarantino said.
Tarantino, a former NCAA champion at the University of Tennessee, took time off from diving two years ago to start a roofing business. He missed the sport more than he thought he would and has put the business on the back burner while aiming to make the most of his athletic window.
"I have a different perspective because I want to make it happen this time, whereas last time I wondered if I could make it happen," Tarantino said. "Until I took a break, I didn't realize how much I wanted to dive, for myself. You can't do this forever. Since then, I've really improved."
Said Burgering, who has coached Tarantino for eight years: "Jevon used to dive because he was successful. Now it's because he enjoys it."
Pairing up with Colwill 18 months ago enhanced Tarantino's love of diving. The two used to "mess around" practicing synchronized dives when they'd see each other at meets as kids, before synchro was a sanctioned event.
"Synchro is so much fun," Tarantino said. "You can share a win. That's something I never had in diving."
Colwill grew up in Brandon, Fla., adapting to a hearing impairment as a child. He just finished school at the University of Georgia. He and Tarantino have had to carry on a long distance training arrangement but plan to train together daily prior to the trials.
At their most recent meet, a World Cup in Beijing, Tarantino and Colwill finished sixth, behind China, Russia, Canada, Great Britain and Ukraine, but just 10 points out of second place.
Tarantino raved about the Water Cube, the most architecturally distinct of all the Olympic venues. He hopes to be back inside its blue glow come August.
"After that event it's in our head that we can win a medal," he said. "Sometimes that thought is the key to the door."
Copyright 2018 The Lawrence Journal-World. All rights reserved. This material may not be published, broadcast, rewritten or redistributed. We strive to uphold our values for every story published.