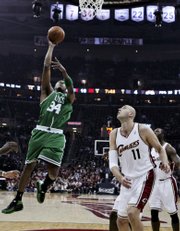 Cleveland — The shots didn't drop again for LeBron James, and it hardly mattered. The rest of the Cleveland Cavaliers made most of theirs.
James scored 21 points on another off-shooting night, but Delonte West scored 21, Joe Smith had 17 and the Cavaliers raced to a large, early lead in Game 3 in a 108-84 victory Saturday night over the road-challenged Boston Celtics to pull within 2-1 in their playoff series.
West, who spent three seasons wearing Celtic green and white, carried the scoring load for the Cavaliers, who are attempting to become the 14th team in NBA history to come back from an 0-2 deficit and win a best-of-seven series.
They've had practice at it.
Last year, the Cavaliers lost the first two games of the Eastern Conference finals to Detroit before beating the Pistons four in a row to advance to the finals for the first time. After dropping Games 1 and 2 in Boston, Cleveland needed James (8-of-42 in the losses) to shoot his way out of a slump.
James was only 5-of-16 from the floor, but his teammates stepped it up, going a combined 32-of-54 (59 percent) to tighten the second-round series. Cleveland roared to a 32-13 lead after one quarter, led by 17 at half, 16 after three and easily withstood a few Boston counter punches.
"We came out and attacked," West said. "We jumped on them and didn't give it back."
The Celtics remain lost on the road, and Game 4 is Monday night in Cleveland.
They've yet to win outside of Massachusetts during this postseason, not an encouraging sign for a team with its sights on a 17th league title. The Celtics went 0-3 in Atlanta during the first round as the Hawks averaged 100.7 points and shot 47.6 percent in three home games.
"On the road it's going to take a little bit more ... we've got to learn our lesson pretty soon," forward Paul Pierce said.
Kevin Garnett scored 17 points, Pierce 14 and Ray Allen 10 as Boston's Big 3 of superstars combined for 41 points.
But the trio was no match for Cleveland's Fab Four of West, Wally Szczerbiak, Smith and Ben Wallace - all acquired in deals at the Feb. 21 trading deadline - who totaled 63 points, 20 rebounds and six three-pointers.
Copyright 2018 The Associated Press. All rights reserved. This material may not be published, broadcast, rewritten or redistributed. We strive to uphold our values for every story published.