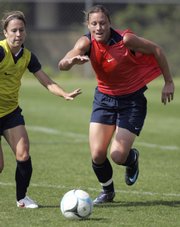 Washington — Abby Wambach strode into the lobby of the team hotel with bright eyes, big smile, firm handshake and a newspaper crossword puzzle tucked in her hand, exuding the kind of confidence one would expect from an athlete about to achieve a rare milestone.
She was back in the nation's capital, preparing for an exhibition game against Canada at RFK Stadium, part of the U.S. women's soccer team's pre-Olympic tour. She talked about a career that has made her the most prolific offensive threat in the world - scoring goals at a rate far greater than her friend and retired California neighbor Mia Hamm - before heading out to practice, where the 5-foot-11 forward towered over her teammates and was easily the most watchable player.
"I feel like a little kid still. I get to play a game for a job," Wambach said. "You get to a certain level that things feel easier than they ever have. It almost feels like you're in the back yard and you're drawing up Xs and Os in the sand with your teammates, trying to conjure up some crazy play."
It's a feeling to savor, especially when Wambach recalls her early days with the national team. She arrived at one of her first camps in 2002 with a relationship-induced buzz-cut - "I was heartbroken, and I felt like it was the only thing I could control at the time," she said - and felt intimidated trying to share a practice field with legends such as Hamm, Julie Foudy, Joy Fawcett, Kristine Lilly and Brandi Chastain.
"I was nervous as heck," Wambach said. "And I wasn't playing well. I wasn't confident."
If the United States is to win the gold this summer in Beijing - and make amends for last year's World Cup disappointment - Wambach will almost surely lead the way. She has 95 goals in international play, 70 more than anyone else who will make the U.S. Olympic roster.
The 95 goals have come in just 118 games, an astounding rate for any level of quality soccer.
"She's certainly come a long way," said Jim Gabarra, who coached Wambach with the Washington Freedom for two seasons in the now-defunct WUSA. "She always had the size and strength. What people underestimate is her technical ability."
Copyright 2018 The Associated Press. All rights reserved. This material may not be published, broadcast, rewritten or redistributed. We strive to uphold our values for every story published.