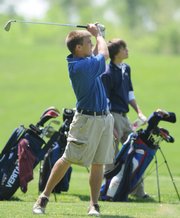 Dinner is on Veritas Christian golf coach Greg Capps.
After Veritas' best team score of the season Thursday in the KCAA State Golf Tournament at Eagle Bend Golf Course, Capps will foot the bill for a team dinner.
"We had a goal all year of breaking 380, and we finally did it today," Capps said after his team finished fourth with a score of 375. "So free dinner on me. The guys will get ribs. Our second goal was third, and we didn't quite get that done, but we've got an opportunity, if we work hard this summer at all, to be pretty good next year."
Christ Prep Academy swept both team and individual standings. First-place golfer Davis Finley, who shot a 76 to make him the only golfer to break 80 on Thursday, led Christ Prep to the first-place team total of 334.
In terms of home cooking, Capps said getting to play at Eagle Bend helped the Veritas golfers achieve their goal by a solid five strokes.
"This is our primary place that we practice, so they were definitely comfortable playing here," Capps said. "It was a good performance and I'm very pleased with all of them."
Nick Gardner led the way for Veritas by carding a 90 on the par-72 course to finish 11th overall.
"I played really well today and had a lot of pars," Gardner said. "It was better than I normally shoot. I usually shoot around 100, so I did a lot better. But I was really wanting to place in our state tournament, though."
With the top 10 scores earning medals, Gardner ended up just one stroke shy of the tenth-place golfer.
"I don't think it bothered him a bit. I was talking to him when he came in and said 'Wish you would have just made bogey on 18 and shot an 89,'" the Veritas coach said. "And he was like, 'Well, I'm just happy I shot a 90.' So he seemed very happy with his score and he's a seventh grader, so he's got a lot of time to get medals."
Veritas' J.J. Abernathy and Blair Capps were consistent on both the front and back nine, as Abernathy shot 46 going out and 47 coming in for a 93. Blair shot a 47 on both sides for a 94.
"It wasn't as good as I would have liked, but it was decent," Abernathy said. "I shoot about a 95, so I was little better than what I usually do."
Veritas will lose just one contributing score next year with the graduation of Stephen May, who shot a 98. Senior Michael Penny, who had a 104, also played his last tournament with Veritas.
"Our two seniors have been terrific leaders for our team during their time at Veritas," Greg Capps said. "It is really too bad they both couldn't have played up to their potential today. Though I am encouraged about our prospects for next year, we will really miss Michael Penny and Stephen May."
Copyright 2018 The Lawrence Journal-World. All rights reserved. This material may not be published, broadcast, rewritten or redistributed. We strive to uphold our values for every story published.