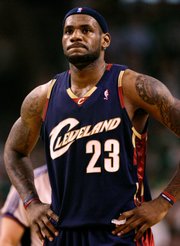 Boston — Paul Pierce and Ray Allen found their shooting touch. LeBron James can only hope he left his in Cleveland.
Pierce scored 19 points, Kevin Garnett added 13 with 12 rebounds, and Allen broke out of a seven-quarter scoring drought with 16 points to help the Boston Celtics beat the Cavaliers 89-73 on Thursday night and take a 2-0 lead in the Eastern Conference semifinals.
One game after going 2-for-18 from the field and missing his last six shots, including a layup to tie the game with 8.5 seconds left, James missed his first three tries and finished with 21 points on 6-for-24 shooting.
"I'm a little shocked that he's 8-for-42, but this is what we work on. We work on trying to contain him," said Pierce, who was 2-for-14 in Game 1. "LeBron is what makes them go. And if we can somehow control him, we control their team. And with the help of the guys around me, we've been able to do that."
Game 3 is Saturday night in Cleveland. The Cavaliers will need their crowd to pull them out of their funk because the Celtics are 6-0 in the playoffs in Boston, and they would have the homecourt advantage through the NBA finals.
"Being down 0-2, that's a tough hole to dig yourself out of. But if we want to win the series we've got to do it," James said, noting the Cavaliers lost the first two games to Detroit in last year's playoffs but won four straight to reach the NBA finals.
"We've been in this situation before," said James, who offered encouragement along the bench as the final seconds ticked off. "I've got to let them know that I'm not frustrated."
Copyright 2018 The Associated Press. All rights reserved. This material may not be published, broadcast, rewritten or redistributed. We strive to uphold our values for every story published.