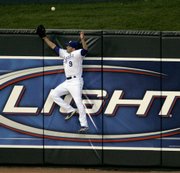 Kansas City, Mo. — This was the guy who led the American League in losses last year?
Actually, no, say Daniel Cabrera's manager and teammates.
The poised, 6-foot-9 pitcher who shut down Kansas City on three hits while leading the Baltimore Orioles to a 4-1 victory Thursday night is a far different pitcher than he was in 2007.
"That's the best I've seen him pitch," said manager Dave Trembley, whose Orioles broke a five-game losing streak behind Cabrera's first complete-game victory since 2006.
"In previous times, he'd start to spin out of control, and he doesn't do it any more. He keeps his focus," Trembley said. "He keeps his poise. He gets himself back in his rhythm. He goes back to pitching. He's not a thrower. That's the big difference."
Nick Markakis had a three-run homer to support Cabrera, who had seven strikeouts and only one walk and used a hard, biting sinker to coax 18 groundball outs.
He also maintained his mastery of Kansas City.
In seven career starts against the Royals, Cabrera is 4-0. The Orioles in those games are 7-0. His lifetime ERA in 7142â3 innings is 4.89. But in 44 innings against the Royals, it's 2.25.
Oddly, he said he didn't even know he'd never lost to KC.
"No, no. I don't look," he said. "I just go today. Every day is new. They have new players. I just go out there and pitch."
Not only did he lose a league-high 18 games last year, Cabrera also led the league in runs allowed and walks while compiling a 5.55 ERA and hitting 15 batters. He didn't feel like comparing this game to his 7-1 complete-game victory over the Yankees in 2006, which until now has stood for his signature start.
"That was back in the day," he said. "That's a long time. I'm trying not to remember the bad years, just going on forward from here, man."
Said Royals manager Trey Hillman, "He probably had a half-foot of movement to a 90-92 MPH fastball. That's a difficult thing to approach. Our discipline wasn't real bad. We didn't see nearly as many pitches as I would like for us to see, but when a guy is filling up the strike zone, you can't stop and look at everything."
Copyright 2018 The Associated Press. All rights reserved. This material may not be published, broadcast, rewritten or redistributed. We strive to uphold our values for every story published.