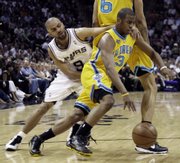 San Antonio — The San Antonio Spurs' Big Three congregated around the scorer's table during a timeout in the fourth quarter, not long before they put the game away for good.
Tim Duncan patted Tony Parker and Manu Ginobili. They all laughed.
The NBA's defending champions were not going into an 0-3 hole against the New Orleans Hornets.
Parker and Ginobili scored 31 points each, and Duncan added 16 points and 13 rebounds as the Spurs beat the Hornets 110-99 in Game 3 of the Western Conference semifinals on Thursday night.
"We know that going 3-0 - it's never been done to come back like that," said Ginobili, who along with Parker consistently got to the rim. "Today, for us, it was a Game 7. We knew if we didn't win today, it was almost over. So we had a different approach. We played with more passion, more edge."
The Hornets still have a 2-1 series lead. Game 4 is Sunday night in San Antonio.
Chris Paul, still almost unstoppable, led the Hornets with 35 points and nine assists. David West had 23 points and 12 rebounds for New Orleans, which was dominant in the first two games of the series.
With the Spurs' win, the home teams are 10-0 in the four conference semifinal series.
"You got to give them a lot of credit," Hornets coach Byron Scott said. "I thought they played a lot more aggressive tonight. A lot more physical. Basically kind of took us right out of our game. I thought we lost our composure tonight a little bit as well."
After trading leads all night, the Spurs led 83-78 entering the fourth quarter.
Ginobili, the league's top sixth man, started for the first time this postseason.
Copyright 2018 The Associated Press. All rights reserved. This material may not be published, broadcast, rewritten or redistributed. We strive to uphold our values for every story published.