Photo Gallery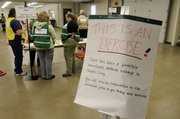 Mock emergency test
"There has been a possible intentional anthrax release in Douglas County."
That was the handwritten message on a sign greeting people on Wednesday when they entered Building 21 at the Douglas County 4-H Fairgrounds, 2110 Harper St.
It was only a drill, albeit an important one, for the Lawrence-Douglas County Health Department. The scenario called for health department staff, volunteers and county emergency first responders to conduct a mass dispensation of medication to people who may have been exposed to anthrax.
"What we hope to learn is being able to get people through a clinic quickly in the event of an emergency," health department spokeswoman Lisa Horn said. "We're taking notes today to see if we're doing things right - if the procedures and operations we have in place are really going to work."
About 100 first responders went through the clinic, just as they would in a real emergency. The first responders would need medical protection first so they could handle their duties. Afterward, in a real emergency, additional mass dispensing clinics would be set up for the public.
Assisting the health department in the drill were Medical Reserve Corps volunteers, the Community Emergency Response Team, Lawrence-Douglas County Fire & Medical, Douglas County American Red Cross and the Douglas County Public Works Department.
Copyright 2018 The Lawrence Journal-World. All rights reserved. This material may not be published, broadcast, rewritten or redistributed. We strive to uphold our values for every story published.