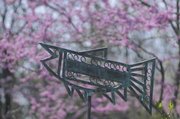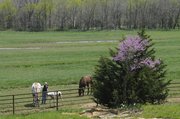 What a magnificent day it was the morning I was driving out to view Chris and Steve Edmonds' garden.
As I walked up to meet Chris Edmonds, we both took a moment to absorb the panoramic view, with white caps on Clinton Lake in the distance.
The Edmondses would be hard-pressed to create a more spectacular setting than that which Mother Nature has so aptly provided. We look out to 80 acres of land, a crystal clear view of the lake, a handful of horses grazing in the pasture below, and it is truly bliss.
"We are surrounded by Corps of Engineers land, so our view will never be obscured," Chris Edmonds says. "My favorite part about living out here is feeling closer to the earth. We've planted some perennials but we've tried to keep it looking more natural. The beauty that nature just gives us almost can't get better."
It is clear that when the Edmondses constructed their dream home, the house was just another facet of nature, meant to blend and mold into the land as if the two developed out of the dirt together.
"The entire idea was to have a great flow bringing nature and the home together as one, having the home look like it just comes out of the landscape," Edmonds says. "All the trees were here. We really didn't have to knock down many of them. However, when we were developing the site we excavated all the rock you see. We had three huge mountains of gigantic rock."
And they have put those rock mounds to terrific use, as the man-made landscape is tiered with limestone walls, walkways, fence posts and a dry river bed.
"It is nice to get out and get my hands in the dirt," Edmonds says. "I enjoy the structuring of the garden as well, particularly with the rock work."
This is a superb setting for anyone, but if you are an artist who finds her inspiration in nature, it just doesn't get any better.
"I've been an artist all my life, looking back," Edmonds says. "My dad was a woodworker; my grandmother was a poet. I was just raised with a general appreciation of art. Nature, however, is my direct inspiration for art. I'll work from a photo or the colors of nature will be my palette."
The artist in me notices the ochers and oranges in the landscape as we peer out over the vista.
A turkey vulture dances in the air above.
"The pelicans are elegant fliers as well," Edmonds says. "They come through in the spring and fall as they migrate."
She points out a large bald eagle's nest that is visible with the naked eye, but when we peer through her telescope, it is a sight few humans can claim to have experienced.
There, the mama bald eagle sits her majestic white head above the branches that she has used to fashion this enormous nest. Chris and I agree the nest must be at least 10 feet wide. Her babies nestle in, protected and enclosed in the spacious living quarters.
Chris and Steve adore living in the country for their love of nature, the space and solitude.
"We do a lot of hiking, walking, horseback riding and maintenance," Edmonds says. "We actually enjoy having the upkeep. We try to keep it simple, originally, I only wanted one perennial garden to weed but Steve kept adding more beds.
"But seriously, gardening is great because it gets me outside. I love having a wild bouquet in the house all the time."
Copyright 2018 The Lawrence Journal-World. All rights reserved. This material may not be published, broadcast, rewritten or redistributed. We strive to uphold our values for every story published.