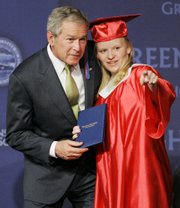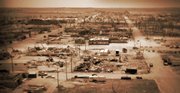 When an enhanced F5 tornado struck Greensburg on May 4, 2007, many thought the town of about 1,400 was destined to disappear. They were half right. About half the town's population has left. But for those who remain, the challenge of rebuilding a town from scratch is powerful and the lure of a new frontier is strong.
Greensburg — President Bush hailed the resilience of this town and its tiny high school graduating class Sunday, one year after a tornado barreled through with astonishing fury.
Never before had Bush delivered a commencement address at a high school, and his presence was meant to reflect how far Greensburg has come. From nearly total devastation last May 4, this town is recovering, and hope has been rekindled.
At the center of attention is the Class of 2008 - 10 boys and eight girls. They finished their senior year at a makeshift campus of trailers.
"We celebrate the resurgence of a town that stood tall when its buildings and homes were laid low," Bush said in his remarks at the temporary high school gym.
"We celebrate the power of faith, the love of family and the bonds of friendship that guided you through the disaster," Bush said. "And we celebrate the resilience of 18 seniors who grew closer together when the world around them blew apart."
Bush said the graduating class has sent a powerful message to the nation: "Greensburg, Kansas, is back, and its best days are ahead."
The tornado that flattened Greensburg was the worst in the United States in years. It raged at 205 mph, spanned more than a mile and a half and killed 11 people.
Bush told the students Sunday that they had learned a hard lesson of perseverance.
He compared their resolve to that shown by victims of other disasters, including the Sept. 11 terrorist attacks and the string of hurricanes, floods and fires during his terms.
"The lessons that you have learned in this town will give you the strength to rise above any obstacle in your path," Bush said. "You have seen life at its most difficult. You have emerged stronger from it."
Bush personally handed a diploma to each graduate.
The ceremony drew essentially the whole town, and then some, into a temporary warehouse-style structure. An estimated 900 people packed in, although the total appeared to easily top that, including alumni of the school and officials from around the state.
Bush was welcomed warmly into town. People holding American flags flanked the roadside.
Leaders of the graduating class thanked Bush for coming, and spoke with optimism.
"We couldn't control what happened a year ago," said the co-valedictorian, Cassie Blackburn. "We were thrown off course, but we recovered."
Copyright 2018 The Associated Press. All rights reserved. This material may not be published, broadcast, rewritten or redistributed. We strive to uphold our values for every story published.