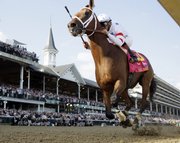 Louisville, Ky. — The Governor of Kentucky toasted him and his horse, but Rick Dutrow Jr. fixed his eyes on a television screen above his head.
An owner of the horse he trained to a Kentucky Derby win toasted him next, but Dutrow kept watching the replay of the biggest race of his life.
He'd been through too much to let it go just yet.
Saturday evening, Big Brown became the first horse to win the Kentucky Derby from the No. 20 outside post position in 79 years. In doing so he gave a win to a trainer who'd overcome a drug problem, suspensions and days when he could only afford to sleep on a cot in a tack room to stay involved with racing.
Dutrow's blue eyes shined at the post-race party as he watched Big Brown gain ground on the outside. He clapped his hands together as Big Brown passed Eight Belles, Bob Black Jack and Cowboy Cal. He grinned widely as his colt zoomed past Recapturetheglory to take the lead.
In front of an announced crowd of 157,770, the second largest in Kentucky Derby history, the bay colt beat filly Eight Belles by 43â4 lengths. Just seconds later Eight Belles broke two ankles and was immediately euthanized.
Florida-bred Denis of Cork finished third.
But Dutrow didn't see any of that.
"I just saw Big Brown kicking (butt) through the lane," Dutrow said. "That's all I saw. I didn't see who was second, third, doesn't matter. We were here for our horse, and I was just watching him."
Some thought Dutrow tempted the racing gods when he announced Tuesday that he hadn't seen a horse in this field who could beat Big Brown. The next day, during the post-position draw, his camp made another bold move by selecting the far outside No. 20 post, from which no horse had won since 1929. But Big Brown had won from the far outside in the Florida Derby.
All week the casual and cavalier trainer's message was the same: This horse will win if we keep him out of trouble.
"I've got to go with what Rick says now," said Michael Iavarone, who co-owns IEAH Stables, a racing company which owns Big Brown. "Rick's word is God for me."
Dutrow was absolutely right. Big Brown started from the outside and stayed outside in what jockey Kent Desormeaux called a "beautiful, uneventful trip."
"At the draw, he said 20, and I'm thinking, wait up, you know there's a couple of holes that are open," Desormeaux said. "But ... this is the perfect starting-gate position for him."
From there, Big Brown's speed and endurance kicked in and he cruised. He spent much of the race in sixth place before taking the lead by a head at one mile. Down the stretch he increased his lead.
Standing next to his 13-year-old daughter Molly, Dutrow started shouting, "Come on, Big Brown, come on, Big Brown."
The win was his payoff after years of struggling to get it right. Dutrow has been suspended for medical violations with his horses, suspended for falsifying workouts and dealt with a drug problem.
The son of a legendary trainer, Dick Dutrow, Rick Dutrow wanted to break into the New York racing scene 10 years ago, and made it work sleeping in a storage room at a track.
"Even though I was doing real bad at the time, I felt good," Dutrow said. "I was with my horses and I was in the game so I felt good. You want it, you want it, you want it and I just kept wanting it. Now I want the Preakness."
By the end of his news conference his red tie was off, the top two buttons on his blue shirt were undone.
His hair was ruffled from the post-race excitement. And a squinty-eyed smile never left Dutrow's face.
Copyright 2018 The Lawrence Journal-World. All rights reserved. This material may not be published, broadcast, rewritten or redistributed. We strive to uphold our values for every story published.