Photo Gallery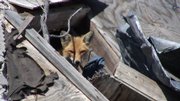 Greensburg: One Year Later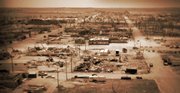 When an enhanced F5 tornado struck Greensburg on May 4, 2007, many thought the town of about 1,400 was destined to disappear. They were half right. About half the town's population has left. But for those who remain, the challenge of rebuilding a town from scratch is powerful and the lure of a new frontier is strong.
Greensburg — Travis Barnes was not looking back.
When Barnes, now 28, graduated from Greensburg High School in 1998 he grabbed his diploma and left for Kansas State University. You could have filled a Greyhound bus with kids just like him who planned to leave the flat farmfields and withering economy behind.
"When I left here, when I graduated from high school, I adamantly said I was never coming back," Barnes said. "Nothing could happen that would ever cause me to come back."
Then, May 4, 2007, happened.
An enhanced F5 tornado - the strongest class of tornado ever measured - ripped through this town that once had about 1,400 people and is about 100 miles west of Wichita. It left 11 people dead, and has essentially halved the town's population.
Barnes and his wife, Stacy, - also a Greensburg native - had been living in Lawrence for two years when the tornado struck. A short four months later, they returned to Greensburg for good.
Both found jobs that didn't exist before the tornado. Travis works in Kiowa County and oversees much of the paperwork that has to be done to receive federal grants that are vital to rebuilding the town. Stacy is the new assistant to the town's increasingly busy city administrator.
Both are glad to be home.
Travis recalled visiting the town shortly after the tornado. He described the scene as surreal. He couldn't even tell what street he was on and he had cruised them hundreds of times in high school.
He realized he didn't know where he was. Then, he realized, that may not be all bad.
"That's kind of what sold it to me," Barnes said of his decision to move back. "When I realized the town I grew up in and vowed to never come back to didn't exist anymore - completely, literally wiped away. It was a new opportunity."
¢¢¢
But make no mistake, it is an uncertain opportunity. There's an opportunity to build a great new town unlike many others. But there's also an opportunity to end up living in a town that is a shell of its former self.
Many folks are sitting on the sidelines to see how this opportunity plays out. City leaders estimate about 800 people live in the community. Many of those residents live in 60-foot-long trailers from the Federal Emergency Management Agency. But building permits for nearly 140 homes have been issued since the storm. Dozens already are completed, and there were pockets of existing homes that were repaired.
Helen Schrader's home wasn't among those. And she's not among those pulling a new building permit. Schrader had lived in Greensburg since 1950. She now lives in Pratt, about 30 miles away, where she bought a house. She kept her lot in Greensburg, but she doesn't know whether she'll use it again.
"I really want to wait a couple of years and see what happens down the road," Schrader said. "If we don't get any businesses back, you know . . ."
She doesn't complete the thought. It is a thought, it seems, that many Greensburg residents don't want to complete. But privately, several residents said that if some key businesses don't come back to town, the momentum the community currently has could quickly evaporate.
In particular, rebuilding the hospital and the town's grocery store are two of the more important businesses that folks in the community want. The general thinking is that if the community can get both businesses back - which plan to rebuild but haven't yet broken ground - that some major employer will locate in the community as part of the national attention it has received as a community that is rebuilding green.
Maybe, maybe not. Schrader said she's not sure how many private residents are truly embracing the green concept, although city government has done so with the projects it is building.
But truth be told, lots of folks don't really want a new Greensburg. They would just like the old one back.
"I would like to be just like Dorothy and click her heels and it would be over with and we'd be back," Schrader said. "But that's not going to happen."
¢¢¢
Outside the Kwik Shop - a place where the front door never seems to stop swinging - piles and piles of 40-pound bags of potting soil are for sale.
Despite everything else there is to do, residents are snatching them up. Ann and Bob Dixson are among the buyers. Ann is part of a group - dubbed the Can Do Committee - that earlier this season planted more than 5,000 spring bulbs around town.
"We knew that come spring after a bleak winter time, we were going to need to see beauty," Ann said. "It just feeds your spirit to see beauty again."
There are other signs of growth too.
In addition to the well-stocked Kwik Shop, the town has several banks, insurance offices, a thrift store, a motel, a diner, a liquor store, car washes, a John Deere dealership, and a few other businesses. Some are housed in temporary trailers, but others boast new brick and mortar buildings.
But still, it is surprising to hear how many Greensburg residents say their spirits didn't begin to rise until they saw the green return to the few trees that survived.
At the Dixson's new home - a modern rancher that replaced their three-story Victorian - the landscaping is all that remains to be completed.
"When the grass comes in, and when the flowers start to bloom," Ann said while standing in a bare dirt yard, "that's when it will really start to feel like home."
Bob nods his head.
"And when the neighbors return," Bob said. "Neighbors."
Time will tell whether both will grow in Greensburg.
Copyright 2018 The Lawrence Journal-World. All rights reserved. This material may not be published, broadcast, rewritten or redistributed. We strive to uphold our values for every story published.