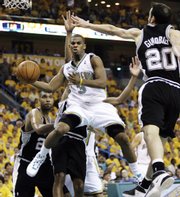 New Orleans — David West scored a career playoff-high 30 points to lead the New Orleans Hornets to a 101-82 victory over the San Antonio Spurs in Game 1 of their second-round playoff series Saturday night.
Chris Paul added 17 points, 13 assists and four steals for New Orleans, which trailed by as much as 11 in the first half but stormed into the lead for good in the third quarter.
Tim Duncan had a rare terrible night, going 1-of-9 from the field for a career playoff-low five points and only three rebounds.
The Hornets swarmed Duncan with double teams throughout the game, forcing San Antonio to look for points from outside.
The Spurs hit 12 three-pointers in the game, but also missed 19.
The Hornets dominated the inside, outrebounding San Antonio 50-34 and outscoring the Spurs 46-26 in the paint. The Hornets also shot 50 percent, while the Spurs finished at 40.8 percent.
Tyson Chandler had 10 points, 15 rebounds and three blocked shots for New Orleans. Peja Stojakovic added 22 points for the Hornets on 9-of-15 shooting, while reserve Bonzi Wells added 10 points, all but two in the fourth quarter.
Tony Parker led the Spurs with 23 points and Manu Ginobili had 19. Bruce Bowen added 17 points and Michael Finley 13.
Copyright 2018 The Associated Press. All rights reserved. This material may not be published, broadcast, rewritten or redistributed. We strive to uphold our values for every story published.