May 2, 2008 severe weather
Photo Gallery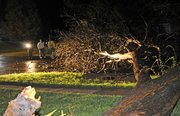 May 2, 2008 storm damage
A powerful storm blew through Lawrence early Friday morning, May 2, 2008, causing damage and power outages.
Related document

Locations of tornado warning sirens in Douglas County ( .PDF )
The tornado warning sirens went off in Perry early Friday morning. They didn't in Lecompton.
Following a longtime county policy, Douglas County leaders decided not to activate the county's outdoor warning sirens, despite the National Weather Service issuing a tornado warning for northwest Douglas County.
Bob Newton, the emergency operations duty officer on Friday morning, said because he had a network of spotters out in the field who were not seeing signs of rotation or funnel clouds, he was confident in his decision.
"It never crossed my mind to activate the tornado warning sirens last night," he said.
But that didn't sit well with a number of local residents, who were concerned that the county discounted the weather service radar detecting rotation in the clouds.
"When you hear the outdoor weather sirens in Douglas County, that means take cover because there is a credible threat from a tornado," Newton said.
The current county policy was developed a number of years ago by a countywide advisory board. It states that sirens are sounded only if radar indication of a tornado is confirmed by trained spotters or law enforcement officers unless the situation warrants a more immediate decision. The sirens also are activated only because of a tornado threat, not strong winds.
But that's not the case in all nearby counties. Shawnee County activated its tornado sirens based on the weather service's tornado warning, as did Jefferson County.
"Right after they called us, a spotter saw one and they would have gone off anyway," said Shawnee County emergency management director Dave Sterbenz.
And in Leavenworth County, the sirens weren't sounded, but there's a protocol to use them if a storm were likely to produce winds in excess of 80 mph.
The Lawrence storm produced 70 mph winds at the Lawrence Municipal Airport and may have produced winds as high as 80 mph, said 6News Chief Meteorologist Jennifer Schack.
But despite the different approaches to using outdoor sirens, all area emergency managers agreed that the outdoor warning system should just be one piece of how people keep track of severe weather.
"It's just one piece of the warning and notification network," Newton said. "The National Weather Service, radio and television, the Internet, are all good sources of finding out weather information."
Douglas County Kansas Outdoor Warning Siren Policy
Activation
The outdoor warning sirens for any or all of the cities in Douglas County are activated when a local determination is made that a tornado threat to the area exists. This determination is made by Douglas County Emergency Management staff and will be based on the evaluation of all available information. This may include, but is not limited to, National Weather Service watch and/or warning text, weather radar and reports from trained weather spotters or law enforcement officers.
The decision to activate the sirens will normally be made by the Emergency Management Duty Officer. If no such person is on duty or that person is not immediately available, the jurisdictional senior law enforcement officer on duty will make the decision and direct the Emergency Communications Center staff to activate the sirens.
Douglas County has the capability of activating all of the sirens at once or more selectively by activating one or more of the six siren zones. All sirens are sounded unless the threat is clearly confined to an individual zone(s). The sirens will be sounded for three minutes initially, and then intermittently throughout the warning period as needed. There is NO "all-clear" siren.
Test
The outdoor warning sirens will be tested on a regular basis. The test will occur at 12 Noon on the first Monday during the months August through February, and on the first and third Monday during the months March through July. Additionally, conducted each morning at 9:00AM an operational poll of each siren is conducted. This is an automatic poll conducted by the computer software program.
Send us your storm stories
Tell us about damage at your home or business. Let us know how you weathered the storm.
Please send us an e-mail at editor@ljworld.com so we can get in touch with you.
Copyright 2018 The Lawrence Journal-World. All rights reserved. This material may not be published, broadcast, rewritten or redistributed. We strive to uphold our values for every story published.