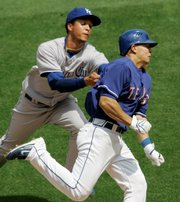 Arlington, Texas — When Sidney Ponson was released by Minnesota last May, the big right-hander knew he wasn't physically or mentally ready to keep pitching. So he went home and was out of the major leagues until last week.
Now his pitches are sinking again, and his confidence is soaring.
Ponson went eight innings to earn his first victory in exactly a year and the Texas Rangers finished off a successful homestand with Ron Washington still their manager, beating the Kansas City Royals, 2-1, on Thursday to take the series two games to one.
"My changeup and my slider helped me throw more strikes. I was lucky enough to have two extra pitches besides my slider," Ponson said. "I'm just happy Texas gave me a chance to pitch back in the big leagues, and I'm going to get the most out of it."
The Rangers took two of three from both Minnesota and Kansas City during the homestand, which began after a miserable road trip and a meeting of owner Tom Hicks, president Nolan Ryan and general manager Jon Daniels about the team's direction. Texas (11-18) set a team record with 18 losses in April, and still has the worst record in the majors.
"I'm judged on wins and losses. We haven't been getting a whole lot of wins, so it falls on me. I can handle that," Washington said. "I'm still here, and we're going to still fight. I can't say it doesn't bother me. ... I just know just as bad as we were, things can turn around. The guys in that clubhouse believe it. I believe it."
Washington has an 86-105 record in his second season, his first managerial job after 11 seasons as a coach in Oakland, where Texas begins a three-game series tonight. Since sweeping a doubleheader at home on April 10 to go to 5-4, the only time the Rangers have had a winning record under Washington, Texas has lost 14 of 20 games.
Ian Kinsler hit a leadoff homer in the first, and Ramon Vazquez hit a tiebreaking drive in the sixth off Zack Greinke (3-1).
Ponson's previous victory was on May 1, 2007, for Minnesota against Tampa Bay. He made only two more starts for the Twins before getting released.
Copyright 2018 The Associated Press. All rights reserved. This material may not be published, broadcast, rewritten or redistributed. We strive to uphold our values for every story published.